NBC Insider Exclusive
Create a free profile to get unlimited access to exclusive show news, updates, and more!
Sign Up For Free to View
What Is America's Got Talent Season 2 Winner Terry Fator Up to Now?
Judge Simon Cowell called the master ventriloquist "the best of the best" in the show's history. Here's why.
Would it even be America's Got Talent: All-Stars without Terry Fator? Judge and executive producer Simon Cowell definitely doesn't think so.
The Season 2 winner and master ventriloquist took the AGT: All-Stars stage during the series' January 2 premiere alongside his puppet friends Winston and Elton John. The flawless performance earned him a standing ovation and reminded us all why Fator — as AGT's O.G. ventriloquist — went on to inspire the likes of other winners Paul Zerdin and Darci Lynne and fan favorites like Season 17's Jack Williams and Celia Muñoz.
RELATED: Simon Cowell Says Terry Fator Is 'No Question' the Most Successful AGT Contestant
"When we decided to make All-Stars we had one condition: We're only gonna do it if you could be here, seriously," Cowell revealed during the show. "Because we just thought, if we're gonna say we've got the best of the best, then you gotta get the best of the best." 
Terry Fator's Journey on AGT
Fator's Season 2 Episode 3 audition in 2007 didn't get off to the most auspicious start: As he took the stage, then-Judge David Hasselhof moaned "Oh no, another ventriloquist."
But then Fator's puppet, Emma Taylor, performed Etta James' "At Last" and Hasselhof joined Judges Sharon Osborne and Piers Morgan to vote him through.
He ultimately won the competition singing "You've Got a Friend in Me" as a duet between his James Taylor-esque puppet and a puppet of Kermit the Frog.
After performing in the Season 17 finals in 2022 (seen in the video below), he returned to compete on America's Got Talent: All-Stars in 2023.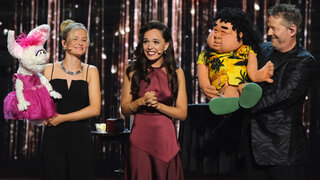 But in a turn of events that surprised some, Fator took home second place behind the Bello Sisters after the night's Superfan vote, and his time on AGT: All-Stars ended. 
Terry Fator after AGT
Following his initial win on AGT, Fator inked a deal for 15 engagements with the Las Vegas Hilton for $1.5 million in 2008.
That year, he also appeared on The Oprah Winfrey Show and The Ellen DeGeneres Show, and published his autobiography, Who's the Dummy Now? 
In 2009, he signed a 5-year deal with the Mirage for nightly shows, which was worth a reported $100 million at the time.
During AGT: All-Stars, Fator revealed that his deal with the Mirage set an impressive record. "Because of America's Got Talent I signed the biggest deal in the history of Las Vegas up to that point," he said. "Five years for $100 million? I mean talk about rags to riches."
The Mirage re-upped his contract multiple times after signing him in 2009, according to Forbes, offering him up to $20 million per year if he sold out his Monday-Thursday shows.
Because of that deal, he was ranked one of the world's highest-paid comedians in 2019, per Forbes. His show closed at the Mirage in March 2020. 
 
What is AGT's Terry Fator doing now?
Fator began performing a new show called "Who's the Dummy Now?" at Vegas' New York-New York Hotel & Casino in late 2020. Tickets are currently available for shows through the end of December.
You can also keep up with him on Instagram @terryfator, where he frequently posts entertaining skits, impressions, and musical performances with a variety of his puppet friends.
Is Terry Fator still married?
Fator married his current wife, Angie Fiore, in November 2015. In an anniversary post in November 2020, he stated that had been the couple's second wedding, having first held a ceremony in September 2015 to commemorate her parents' wedding anniversary. (In a Facebook post in April 2023, Fator stated the couple had gone on their first date eight years ago.)
He had previously been married to Taylor Makakoa, a model and his then-stage assistant. The two tied the knot in November 2010, but announced their plans to divorce in February 2015.
Fator and his first wife, Melinda Fator, were married in Denver in 1991. She filed for divorce in their home state of Texas in February 2009, which he announced that July.
This story was originally published on January 2, 2023. It was updated August 7, 2023.