NBC Insider Exclusive
Create a free profile to get unlimited access to exclusive show news, updates, and more!
Sign Up For Free to View
Remember When TikTok Comedian Matt Rife Showed up in Brooklyn Nine-Nine?
Rife guest-starred on a 2019 episode of the police comedy show as Brandon Bliss, "the most popular kid in school."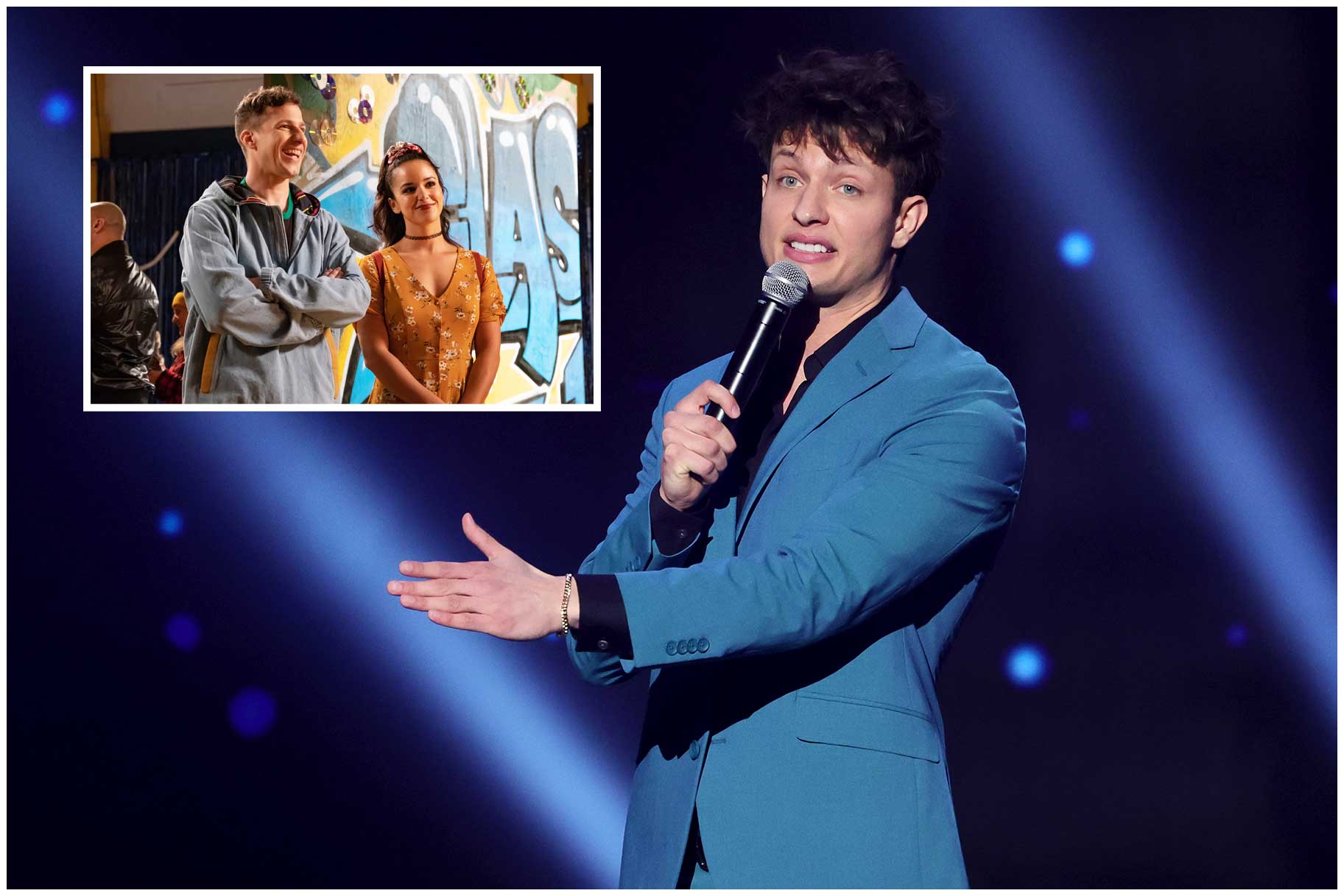 You may know Matt Rife from his comedy specials or from blowing up on TikTok where he interacts with the crowd, but the standup comedian also caused some grief for a certain detective on Brooklyn Nine-Nine. Rife guest-starred in a 2019 episode of the police comedy show as Brandon Bliss, "the most popular kid in school" at Detective Jake Peralta's (Andy Samberg) high school.
And Jake's desire to fit in with the cool kid didn't turn out so well, as he explained to his colleagues at the New York City Police Department's 99th Precinct ahead of his high school reunion in a Season 6 episode. "It was junior year and Jake was riding high," Jake tells his co-workers. "Sophomore year was rough, but now I was back with a hot new look — an earring and long hair. ... I was finally cool and becoming friends with the most popular kid in school, Brandon Bliss." 
RELATED: How to Watch NBC's Brooklyn Nine-Nine
"He asked me to ditch class one day with him and his buddies, steal a school van, and go get drunk," Samberg's Jake continues. "But the day before we were supposed to go, someone ratted Brandon out and he got suspended. He thought I was the one who told and from that day forward, everyone called me The Tattler. ... It was a scarlet letter, and it ruined my senior year. But luckily, I'm over all that now."
What episode of Brooklyn Nine-Nine does comedian Matt Rife appear in? 
Rife's episode, titled "The Tattler," was Season 6, Episode 3 of the police procedural that initially aired on Fox before moving over to NBC, and is now streaming on Peacock. The comedian shows up in flashback scenes from Jake's high school days while the detective and his wife, Amy Santiago (Melissa Fumero), are at his class reunion. 
To get to the bottom of "TattleGate" — as Charles (Joe Lo Truglio) put it on the show — Amy suggests starting out by talking to Brandon Bliss to find out who told him Jake was the tattler. "Unfortunately Bliss is not here — probably in the VIP section at a Fatboy Slim concert," Jake responds. "I don't know who told Brandon, but I heard it was someone on the football team." 
Amy asks Jake to take her back to the day the incident happened so they can try and figure out what happened. Flashback to 20 years earlier, and we see Jake after second period strolling through the halls with long hair and an earring. He looks at Brandon and gives a nod, and the most popular kid in school gives a nod of approval back, thrilling young Jake.
Watch Matt Rife's guest appearance on Brooklyn Nine-Nine:
"But then, when I saw him after third period, something had clearly changed," current Jake explains to Amy, as we see Brandon shake his head in disgust at Jake in another hallway flashback. "After that, there was little color left in the world for young Jake." 
Amy reasons that they just need to figure out which football player had third period with Brandon, so they obtain his class schedule by breaking into the administrative office and pulling up Brandon's details. Jake spots a name he recognizes from the football team and the mystery is solved. 
Think you may have spotted Rife on other TV series as well? You'd be right. He's also appeared in Wild 'n Out, Fresh Off the Boat, and on The Challenge: Champs vs. Stars.
Catch all eight seasons of Brooklyn Nine-Nine, now streaming on Peacock.