NBC Insider Exclusive
Create a free profile to get unlimited access to exclusive show news, updates, and more!
Sign Up For Free to View
These Exciting New Amsterdam Photos Hint at What's to Come in the Series Finale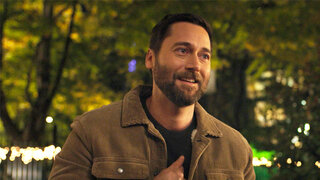 Tuesday, January 17 officially marks the jam-packed and sure-to-be emotional series finale of New Amsterdam. The two-hour event will take place across two episodes as we say goodbye to our favorite doctors and hear Max (Ryan Eggold) ask, "How can I help?" for the very last time. (Which also happens to be the title of the last episode.) 
"The way that we're leaving the show is very typical to New Amsterdam [but] not very typical of most TV shows," Tyler Labine (Iggy) told Cinema Blend. "It's not going to be spoon-fed, 'Here's the answer to everything.' It's more like a very nurturing and caring hug, as we gently nudge you out into the world. There's a lot of care and a lot of thought that's going into what happens for these people. The whole story can never be told. We can give you some pieces and say 'Here, take that,' and hopefully that will make you happy."
In preparation for the bittersweet end of this beloved medical drama, below are a handful of photos from the finale. And they offer some pretty big hints about what to expect for a few characters. A hint? Reynolds and Iggy look pretty happy.
Season 5, Episode 12 ("Right Place") 
It looks like Max, Wilder (Sandra Mae Frank), and Ben (Conner Marx) are having a tough conversation with Karen (Debra Monk) and Eric (Peter Grosz).
And they definitely don't like whatever they're hearing.
It looks like Reynolds and Gabrielle's (Toya Turner) relationship is on the right track.
And Bloom (Janet Montgomery) and Nurse Casey are side-by-side once again.
Season 5, Episode 13 ("How Can I Help?")
Looks like we'll have a flashback during the finale, with actor Blake Kane playing a young Max.
It appears Reynolds and Gabrielle have taken the next step in their relationship as they sit down for dinner with his family.
And all the signs point to an Iggy and Martin (Mike Doyle) reconciliation.
Does it get more romantic than this?
But would it be New Amsterdam without a dramatic and intense surgery? Here, Wilder and Ben nervously prep before an operation.
This time, Ben and Max look uneasy about whatever's going on on the operating table.
We can see Bloom, Karen, and Casey looking on nervously from the observation deck. Is the patient someone we know?
Could Max be giving one of his famous speeches?
Wilder adorably looks on with Luna in her lap.
Max looks incredibly happy about something as he embraces Luna. We can't wait to see what put that smile on his face!
The series finale of New Amsterdam airs Tuesday, January 17 at 9/8c on NBC. You can watch every episode of New Amsterdam now on Peacock.