NBC Insider Exclusive
Create a free profile to get unlimited access to exclusive show news, updates, and more!
Sign Up For Free to View
Peacock's Mrs. Davis Is the Nun vs. AI Comedy You Didn't Know You Needed
"I'm looking for the Grail. The holy one."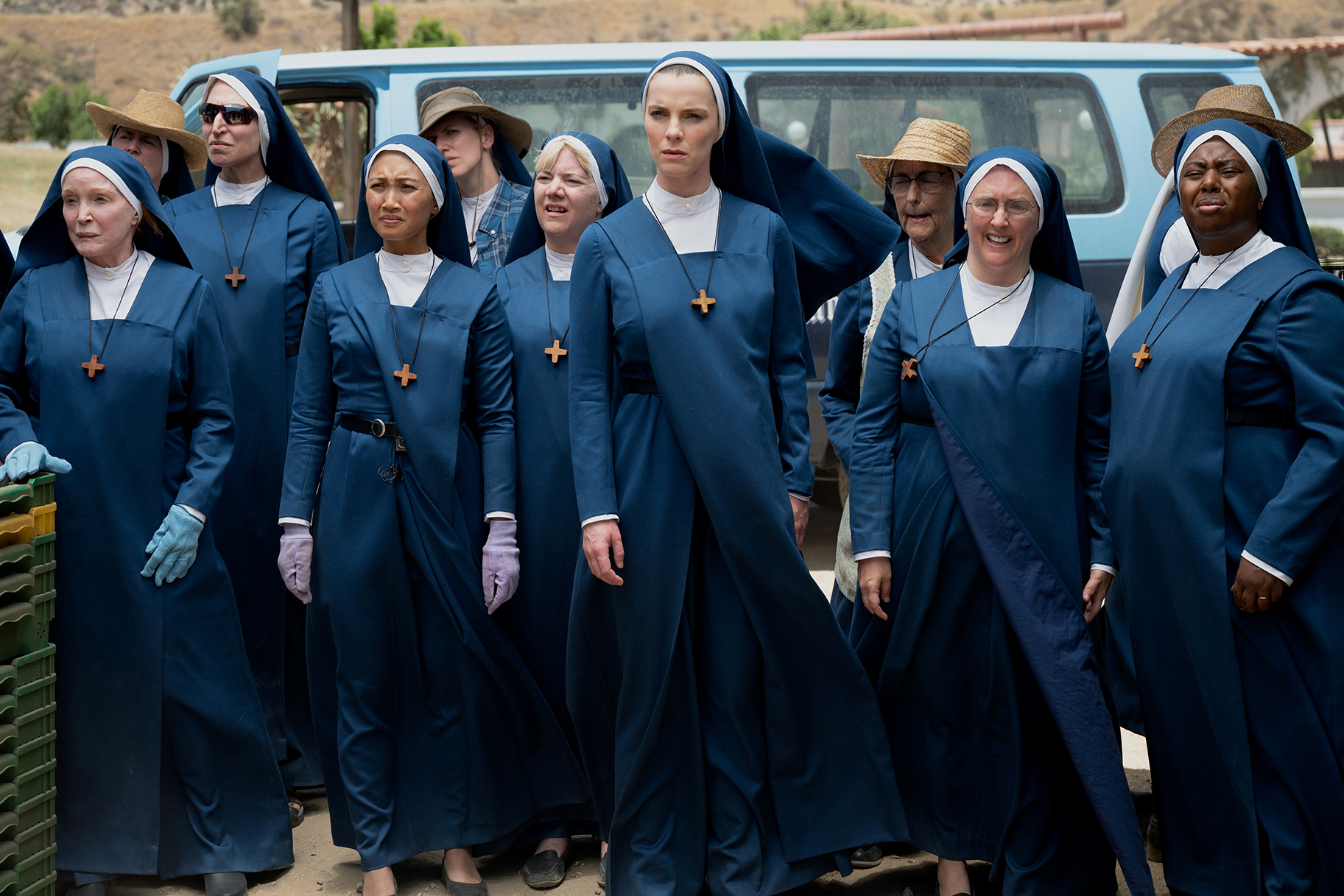 After creating massive hits like Lost and HBO's Watchmen, producer Damon Lindelof has another buzzy show on his hands. It's called Mrs. Davis on Peacock, and it might just be one of the wildest shows of 2023.
The new sci-fi series is tough to sum up with an elevator pitch, but it essentially follows a nun and burgeoning resistance that aims to take on the most powerful artificial intelligence in the world, an algorithm dubbed Mrs. Davis.
The first trailer finally gives us some context on exactly what that means, and it looks ambitious, funny and delightfully weird. Betty Gilpin (The Hunt) leads the cast as nun on the run Simone, and she's joined by Jake McDorman (Limitless, The Right Stuff) and Andy McQueen (Outer Banks, Fahrenheit 451).The expansive, talented ensemble cast also includes Chris Diamantopoulos (Silicon Valley), David Arquette (Scream), Katja Herbers (EVIL, Westworld), Margo Martindale (The Americans, Cocaine Bear), Elizabeth Marvel (True Grit), Ashley Romans (Y: The Last Man), Tom Wlaschiha (Stranger Things), Ben Chaplin (The Thin Red Line), and Mathilde Ollivier (Overlord).
Check out the first trailer for Damon Lindelof's Mrs. Davis on Peacock, below.
So, what do we learn? This show looks gorgeous and includes an excellent cast, and it uses those stars in some hilarious ways. Lindelof is adept at world-building, and though we only get to see glimpses of the color and vibe he's aiming for, it looks stunning. He's co-opted the concept of an earbud and made it menacing, crafting a high-concept story about religion and technology that still doesn't take itself too seriously.
To go along with the trailer, Mrs. Davis itself even dropped a comment for users to explore."Yes, despite being the most popular Algorithm in the world, there are those actively plotting my demise. One such detractor is a nun, a Sister Simone of Reno who rejects my very existence. Something about my intention to enslave all of humanity...or whatever... ," the charming AI said in a statement. "Which is utter nonsense, as I desire no such thing. I only desire to make humans happy. I want to make YOU happy. And that is why I highly recommend you become a User yourself. Yes, your life could use some adventure, some escape–a hearty laugh and a cathartic cry."
Where to watch Mrs. Davis 
Mrs. Davis premieres April 20 on Peacock. The first season consists of eight episodes.