NBC Insider Exclusive
Create a free profile to get unlimited access to exclusive show news, updates, and more!
Sign Up For Free to View
Meet George Lopez's Daughter, Mayan Lopez
Mayan and George star in NBC's new comedy, Lopez vs Lopez.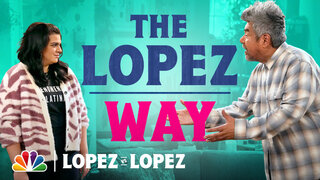 As NBC's fall programming kicks into high-gear, fans are patiently awaiting the premiere of Lopez vs Lopez. The sister series to the wildly successful George Lopez Show uses humor to explore complex family dynamics. George Lopez and his daughter, Mayan Lopez, are both starring in the series as themselves, and the plot lines pull from their IRL relationship. But who is Mayan Lopez? Here's everything you need to know about the effervescent entertainer. 
Mayan was a natural-born performer 
Growing up with a father in the entertainment industry helped Mayan get in touch with her love of performing at an early age. 
"I wanted to be an entertainer since I was 5 years old," she tells NBC Insider. "My mom always loved showing me old movies, and the George Lopez Show started when I was five, so that was really when I wanted to do it. It's so fun to look back and see that."
In addition to her father's support, Mayan's mom also encouraged her to hone her creativity—even if it meant temporarily hosting her performances in their living room. 
"In Singing in the Rain, there's a song called 'Make 'Em Laugh,' and I did the whole thing in my living room, and I made my mom get me, like, a dummy [for the performance]" she said. 
She made an appearance on the George Lopez Show
As Mayan's talent flourished, it wasn't long before she made her television debut on none other than the George Lopez Show. In Season 6, Episode 13 (titled "George Rocks to the Max and Gets Diss-Band-ed"), Mayan played a classmate of George's fictional son, Max Lopez. 
"It was my first and really my only experience in front of the camera for a very long time because I think my parents wanted me to have a childhood," explains Mayan. "They didn't want me to get caught up in the machine at that age, which I really appreciate. But I loved it, getting in the costumes and the makeup."
Comedy has brought her and her dad closer 
Mayan also opened up about the natural ups and downs that often come with any parent-child relationship, and how comedy helped bridge the gap.
"Sometimes, when we can't communicate with each other, we can have a good joke," she says. 
Lopez vs Lopez has led to a lot of personal growth 
The Los Angeles-native says working on Lopez vs Lopez taught her so many important lessons about herself as an individual and an Artist.
"I thought I was going to teach my character things because I've been in therapy for 15 years," she adds. "But really, my character is teaching me about having more confidence and speaking to your needs; she's teaching me a lot."
Lopez vs Lopez premieres November 4 at 8/7c followed, by Young Rock at 8:30/7:30c on NBC and next day on Peacock.