NBC Insider Exclusive
Create a free profile to get unlimited access to exclusive show news, updates, and more!
Sign Up For Free to View
See Why the Notes Lana Love Hit Singing Mandy Moore's 'Candy' Wowed John Legend
Her tone was absolutely gorgeous!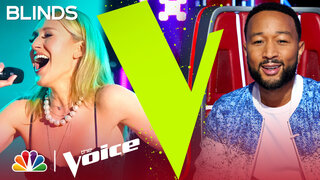 The Voice Season 22 has been blowing us away with some amazing Blind Auditions. In the October 3 episode, 30-year-old Lana Love sang a gorgeous and ethereal version of Mandy Moore's classic pop tune "Candy." And it wowed the Coaches.
She appeared on stage singing a slow, steady melody with lots of vibrato. Then, when she hit a sustained note while singing the lyrics, "Body's in withdrawal every time you take it away," Coach John Legend promptly turned his chair around.
Related: John Legend Claims This Audition Was One of the Best He's Seen
"I'm craving for you, I'm missing you like candy," she then sang the iconic lyrics before hitting a seriously impressive whistle note, causing the audience to erupt in cheers and Legend to put his hands in the air. "Oh my God," Gwen Stefani exclaimed.
When it was time for the Coaches to give their feedback, Love mentioned to Legend that they had actually met before and that she was determined to work with him one day. Looks like her wish came true!
"That was such a cool song," Camila Cabello commented. "I thought the arrangement of it was really cool, I really liked your rendition of it."
"You showed so many different sides to your voice, and for a Blind Audition, that's very strategic in a good way," Stefani praised, adding that she was excited to see what the Artist has in store next for the competition.
"You got John to turn around, and nobody ever beats John," Blake Shelton then remarked.
"That's where your confidence is at right now? That's really sad," Cabello teased.
Related: This Four-Chair Turn Audition Made All the Coaches Emotional
Ultimately, the singer Love got to be on Legend's team. To celebrate, she walked offstage towards him, where he gave her a red varsity jacket. 
Watch The Voice on NBC Mondays and Tuesdays at 8/7c and next day on Peacock.