NBC Insider Exclusive
Create a free profile to get unlimited access to exclusive show news, updates, and more!
Sign Up For Free to View
A Winter Storm Wreaks Havoc in La Brea Season 1, Episode 7
And an unveiled secret changes everything for Lucas.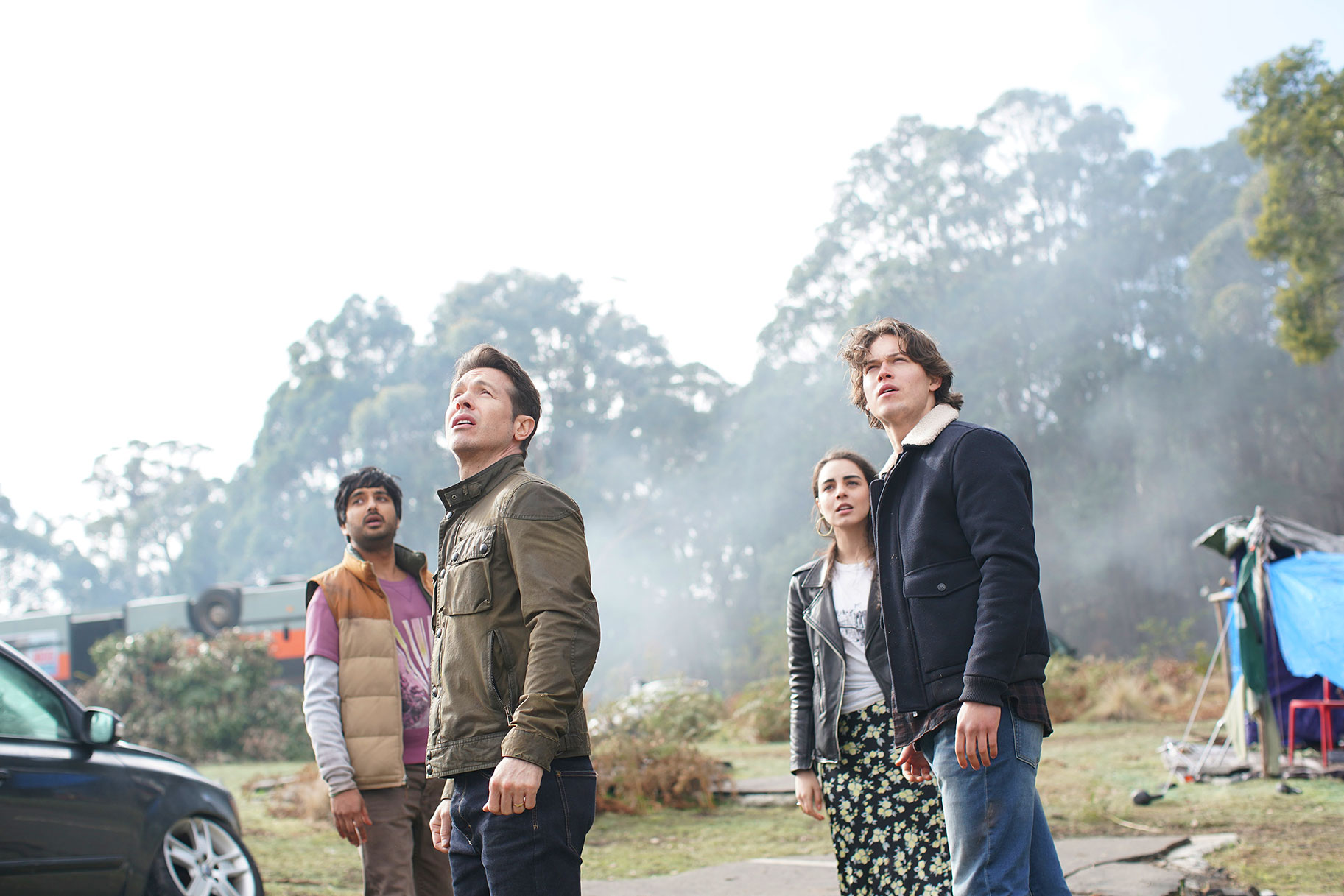 La Brea Season 2 is officially returning to NBC on September 27 at 9/8c. And with that date just a few weeks away, we can't help but look back at the inaugural season of the show.
If you're in need of a recap—or watching the series for the first time—each week NBC Insider will break down the major plot points of every episode of the first season. Below, the highlights from La Brea Season 1, Episode 7, titled "The Storm."
Scott spreads the news about the buried treasure.
In the middle of the night, Scott decided to show Riley and Josh that Civil War gold he and Lucas discovered last episode. He tells them that it came from 1863, and in his opinion, is evidence that there are sinkhole travelers from another time period also living in 10,000 B.C.
Eve and Marybeth's actions have consequences.
In the wake of Eve and Marybeth foiling Levi and Diana's attempt to escape, Josh is unable to forgive his mother. The same goes for the a majority of survivors, and tensions come to a head when Sam (backed up by the camp) asks Marybeth to hand over her gun since she accidentally shot and killed Diana. She refuses, causing Lucas to speak out against her. Eventually, he calls for both Marybeth and Eve to be banished from the camp and takes a group vote. The majority, including Josh and Lucas, decide that they should leave.
As they're preparing to leave the camp a winter storm hits 10,000 B.C., with heavy winds trapping Lucas and Marybeth under rubble. While they're waiting to be saved, Marybeth reveals to Lucas why she killed his father. As it turns out, he was a dirty cop who was dealing drugs that were confiscated by their local police department, and he got Lucas involved in his operation. But Internal Affairs was onto him and in order to save himself, he cut a deal and was going to blame everything on Lucas and let him go to jail instead. He was on his way to turn Lucas in when Marybeth killed him.
Just moments after that revelation, Sam successfully uses an IED to free Marybeth and Lucas. Once the storm passes, Marybeth gives up her gun and the survivors retract their decision to banish her and Eve—including Josh and Lucas.
Ty finds an unlikely source of help.
Left by Veronica tied up and abandoned by the stone handprint, Ty gains consciousness just as a Tongva tribeswoman (the same one who freed Eve and Levi a couple episodes ago) approaches. She frees Ty of his bindings and then tries to leave, but before she does, Ty passes out. 
The next time we see him he's woken up in a cave with the woman, and she's stitched his wound. In a hurry to head back to the village, she tells Ty that the Tongva call the survivors the Sky People, and they have been arriving for generations. But before she can leave, they end up stuck together when the storm hits. The two begin to bond as they open up to each other about their respective worlds. Once the storm passes, they're on good terms and Ty learns her name: Paara. She leads him back to camp.
Gavin attempts to figure out Aldridge's riddle.
After the DHS releases him once he signs an NDA, Gavin begins to unpack the cryptic message Aldridge left him: "Go back to the beginning...November 16, 1988." He reveals to Nathan that that date is right around the time he was adopted and believes the key to rescuing his family lies in the past.
His journey to find answers leads him to the church where he was abandoned as a child. The reverend there tells Gavin that they found him with a young girl around his age, a fact that he didn't know. Nathan's contact at CPS gives them the address of a woman named Ella, which leads them to her sculpture garden where she's built a structure of the mysterious Tongva handprint symbol.