NBC Insider Exclusive
Create a free profile to get unlimited access to exclusive show news, updates, and more!
Sign Up For Free to View
Killing It Cast Talks "Awesome" Guest Stars in Season 2 of Peacock's Hit Comedy Series
All episodes of Killing It Season 2 are now streaming on Peacock!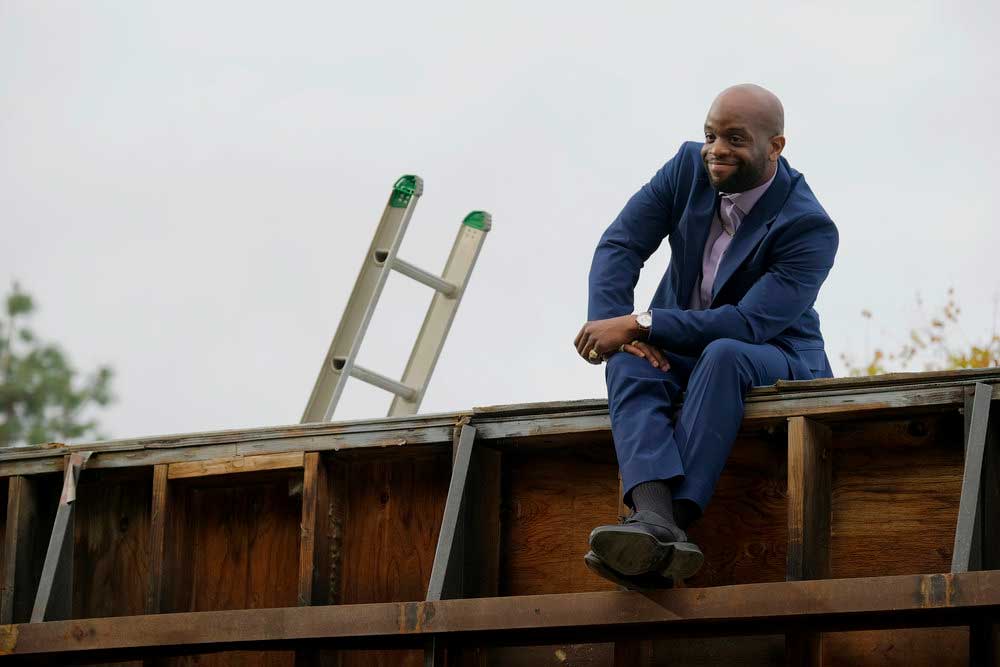 Back in May of this year, Variety reported a slew of guest stars for Season 2 of Killing It, including SNL alumni Beck Bennett and Kyle Mooney.
With the sophomore season now streaming on Peacock, we finally know how they fit into the wider saga of self-made tycoon Craig Foster (played by executive producer Craig Robinson), who has gone from professional snake hunter to saw palmetto berry farmer alongside his plucky Australian co-investor Jillian Glopp (Claudia O'Doherty).
RELATED: Killing It Cast On Where We Find Their Characters in Season 2 of Hit Peacock Series
"Now we're killing it in a business way," O'Doherty explained to NBC Insider ahead of the SAG-AFTRA strike. "What I think is really interesting about the show is that it starts in the current day and we flash back to how Craig became a rich and successful businessman. There aren't that many comedies where the plot progresses as much as it does in this show. So yeah — we're killing it in business in Season 2. Or killing it in farming in Season 2. It's much more about farming."
But as we've noted previously, the duo's entrepreneurial odyssey is far from smooth sailing as a wide range of colorful characters pop in and out of the story, threatening to take every hard-earned penny they've won so far.
Killing It cast members discuss Season 2 guest stars
The trouble begins right out of the gate for the proprietors of Henry's Farm. Shortly after Craig and Jillian lock down a lucrative deal to sell their entire crop, an inspector with the Florida Department of Agriculture (Bennett) shuts down the entire operation.
Giant African Land Snail (an invasive species that can also spread meningitis to humans) have been sighted in the area and the government is worried about them infesting agricultural materials within a 10-mile radius. Quarantine should only last 2-10 days, but it ends up dragging on for several weeks once the inspector's professional life starts to hilariously spiral out of control, causing him to appear more and more harassed upon each visit.
"Beck is so, so funny, but he's also my friend," O'Doherty said. "Every time he would come back to set, he'd have darker circles under his eyes, his hair would look more insane. Seeing your friend look increasingly terrible is a great thing. I really recommend it."
RELATED: Bupkis: Watch the SNL Sketch Where Pete Davidson and John Mulaney Allegedly 'Switched Souls'
Craig and Jillian subsequently seek an extension on their loan from Mr. Franks (Tim Bagley), the rather creepy bank officer from Season 1, who is unable to help with their request, owing to the fact that he was recently punished "for being too nice to women."
While the cast doesn't often break character — "because I love going home," O'Doherty explained — they couldn't resist the urge to cackle like a pack of mad hyenas while filming the exchange with Bagley. "He made us laugh a lot and provided so much funny stuff, so that one took a really long time to get through," the actress concluded.
Craig's on-the-run brother, Isaiah (Rell Battle) faces his own set of obstacles in Episode 3, a horror-inspired tale appropriately titled "It Follows." Running low on funds, Isaiah decides to get a job, using the identity of a dead man named Marty Simkowitz.
Said persona is given to him by a less-than-reputable dealer called Bugs (Mooney), who fails to divulge the fact that the Simkowitz identity has been passed from person-to-person over the years, racking up all sorts of debt and attracting a swarm of collectors, starting with the relentlessly persistent Troy Chubner (Watchmen's Jackie Earle Haley).
"Let me tell you something, Jackie Earle Haley is the creepiest, scariest, dopest actor, man," Battle. "That same episode [has] Kyle Mooney from SNL, and he killed it. We couldn't keep our faces straight on set. Our guest star level just rose to a new plateau this season. Being able to work with these guys comedically was definitely a blessing. It was like acting class [with] different styles to learn from. That's one of the most exciting episodes for me personally. I'm being selfish, but we have that kind of guest star level throughout the whole season, so it's awesome."
When does Season 2 of Killing It premiere on Peacock?
All eight episodes of Killing It Season 2 are now streaming on Peacock alongside the first season.
Critics are absolutely loving the new episodes, with Collider declaring them "an excellent example of satirical comedy." Looper, meanwhile, hails the series as "a genuinely funny show that's R-rated at the same time, making it a rarity among comedies."
Want more original Peacock content? Be sure to check out Twisted Metal, Bel-Air, A Friend of the Family, Poker Face, Joe vs. Carole, Mrs. Davis, MacGruber, and Based on a True Story
**These interviews were conducted before the actors' strike.**