NBC Insider Exclusive
Create a free profile to get unlimited access to exclusive show news, updates, and more!
Sign Up For Free to View
See How Jake Gyllenhaal Somehow Beat Kelly Clarkson in a Singing Competition
The actor defied expectations! Check your local listings for The Kelly Clarkson Show.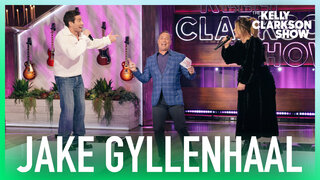 For a recent episode of The Kelly Clarkson Show, Kelly Clarkson brought on the talented The Covenant star, Jake Gyllenhall, for a fun game of "Sing That Name That Tune". The rules? The band started playing a song, and whoever guesses and sings the track correctly got a point. However, each participant could get bonus points for enthusiasm (something we all know Clarkson is known for). 
Comedian Matt Iseman, who also hosts American Ninja Warrior on NBC, came onstage to help referee the epic game. "Kelly Clarkson is cutthroat, and she will adhere to the rules," Iseman told Gyllenhaal.
Clarkson teased Gyllenhaal for being nervous before the first song began to play. It was "Achy Breaky Heart" by Billy Ray Cyrus, which Gyllenhaal guessed first. He sang the tune in a Southern twang while Clarkson then jumped in with a harmony. Gyllenhaal ended up getting the first point for naming the song quicker, plus another for enthusiasm. 
For the second tune, Clarkson incorrectly guessed "My Sharona", but Gyllenhaal quickly swept in by singing "I'm Gonna Be (500 Miles)" by the Proclaimers. Gyllenhaal ended up earning a point while Iseman gave one to Clarkson for her enthusiasm. After the round was over, Gyllenhaal revealed that he is a big fan of the song and used to listen to it frequently during his childhood, hence his familiarity with the lyrics. Clarkson and Iseman then both poked fun at Gyllenhaal's Irish accent. 
The final song was a five-point song, meaning that Clarkson still had a chance to win. The band started playing "Mr. Brightside" by The Killers, to which Gyllenhaal correctly started singing once again, followed by Clarkson jumping in immediately with her vocals. 
While Gyllenhaal wasn't too familiar with the lyrics, Clarkson sang them perfectly. "Gotta gotta be down because I want it all. Started out with a kiss, how did it end up like this? It was only a kiss, It was only a kiss," she sang with energy.
"Now I'm falling asleep, and she's calling a cab, while I'm having a smoke, and she's taking a drag, now I'm going to bed, and my stomach is sick, and its all in my head," she continued. 
When the game was over, Gyllenhaal ended up defying expectations and being declared the winner. "Who knew it could be this easy?" he said sassily as Clarkson laughed. 
Check your local listings for The Kelly Clarkson Show.