NBC Insider Exclusive
Create a free profile to get unlimited access to exclusive show news, updates, and more!
Sign Up For Free to View
John Mayer Delivered a Gorgeous Performance on the Tonight Show's First Night Back
The Tonight Show's October 2 musical guest performed the 2021 ballad "Shouldn't Matter but It Does" and shared a fake commercial he wrote for the show. 
Musician and occasional comedy dabbler John Mayer was the musical guest on The Tonight Show Starring Jimmy Fallon's first show back on October 2. In addition to sitting down for a catchup session with Host Jimmy Fallon, Mayer performed his tender ballad, "Shouldn't Matter but It Does." 
Mayer's signature guitar skills were on full display as he crooned the bittersweet breakup song from his 2021 album, Sob Rock, hitting a sweet soaring note toward the song's close. 
RELATED: Jimmy Fallon Talks Taylor Swift and Travis Kelce in His Tonight Show Monologue
In his interview with Fallon, Mayer reminisced about the time Questlove, drummer for Tonight Show house band The Roots, sat in with his band for a Madison Square Garden performance. Mayer also told Fallon all about the time he ate "an adult Fruit Chew" and got inspired to write a fake commercial for The Tonight Show titled "Crypto Bismol." 
"I sent it to our dear friend Andy Cohen," Mayer recounted. "Just so confident it was great: 'Send this to Jimmy, please!" Then, much to Mayer's surprise, "You fully produced the commercial!"
Watch the interview—and the actual Mayer-penned sketch about the gastrointestinal stress of the bitcoin market—below.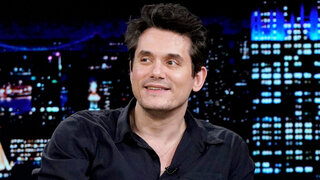 What are the "Shouldn't Matter but It Does" lyrics? 
Shoulda been open
Shoulda done more
Shoulda learned a lesson from the year before
Shoulda been honest
Shoulda just cried
Shoulda told me there was nothing left inside
Now the road keeps rolling on forever
And the years keep pulling us apart
We lost something, I still wonder what it was
It shouldn't matter
Shouldn't matter, but it does
You shoulda just broken
You shoulda come clean
You shoulda been sad instead of being so fucking mean
It shouldn't be easy
But it shouldn't be hard
You shouldn't be a stranger in your own backyard
Now the road keeps rolling on forever
And the years keep pulling us apart
I know it's over, I'm just saying this because
It shouldn't matter
Shouldn't matter, but it does
I shouldn't be angry
I shouldn't hold on
I shouldn't leave you messages in every little song
It could have been always
It could have been me
We could have been busy naming baby number three
Now the road keeps rolling on forever
And the years keep pulling us apart
If it's on someone, then I blame the both of us
It shouldn't matter
Shouldn't matter, but it
Shouldn't matter
Shouldn't matter, but it
Shouldn't matter
Shouldn't matter, but it does