NBC Insider Exclusive
Create a free profile to get unlimited access to exclusive show news, updates, and more!
Sign Up For Free to View
John Larroquette Opens Up About Returning to Night Court After 30 Years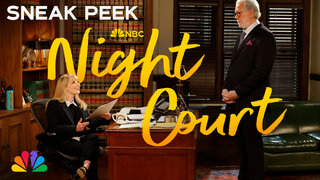 Night Court is officially in session, people. The highly-anticipated reimagining of the original comedy, which ran from 1984 to 1992, returned to NBC in January 2023. And fans are loving it. 
After a 30-year hiatus, John Larroquette reprised the iconic role of Dan Fielding, a lawyer at the Manhattan Municipal Court. The new Night Court is a continuation of the original plot, but this time, Abby Stone (Melissa Rauch), the daughter of the show's original lead character Harry T. Stone, is calling the shots. 
Fans who missed this hilarious window into some of New York's whackiest legal cases will definitely enjoy the new show—especially with Larroquette on board. 
"We knew we wanted John [Larroquette] to be a part of [the show], and luckily he was open to it," the show's executive producer Winston Rauch told TV Insider. "He won four Emmys in a row for Night Court."
Larroquette himself joked to TV Insider about the process of revisiting the role he played so long ago. 
"Let me really be honest, I am 40 years older than when I began that part, so getting in his shoes was difficult because my feet are swollen," he quipped. "Luckily, I had Melissa to play against, and it fell into place easily."
Larroquette explained his character's journey back to the courtroom, setting the stage for the new series. 
"He got out of the law system and found somebody he fell in love with and who fell in love with him," he said. "He was content and matured. And then his wife passed away, and he retreated back into this dark cave. Dan is pulled back into the light by Harry's daughter."
How do I watch the new Night Court on NBC?
Watch Night Court Tuesdays at 8/7c on NBC and next day on Peacock.