NBC Insider Exclusive
Create a free profile to get unlimited access to exclusive show news, updates, and more!
Sign Up For Free to View
Let's Relive Jimmie Herrod's Dazzling Musical Performances From AGT
Singing Simon Cowell's least-favorite song and still making it to the top 5 of AGT? Jimmie Herrod is a force to be reckoned with.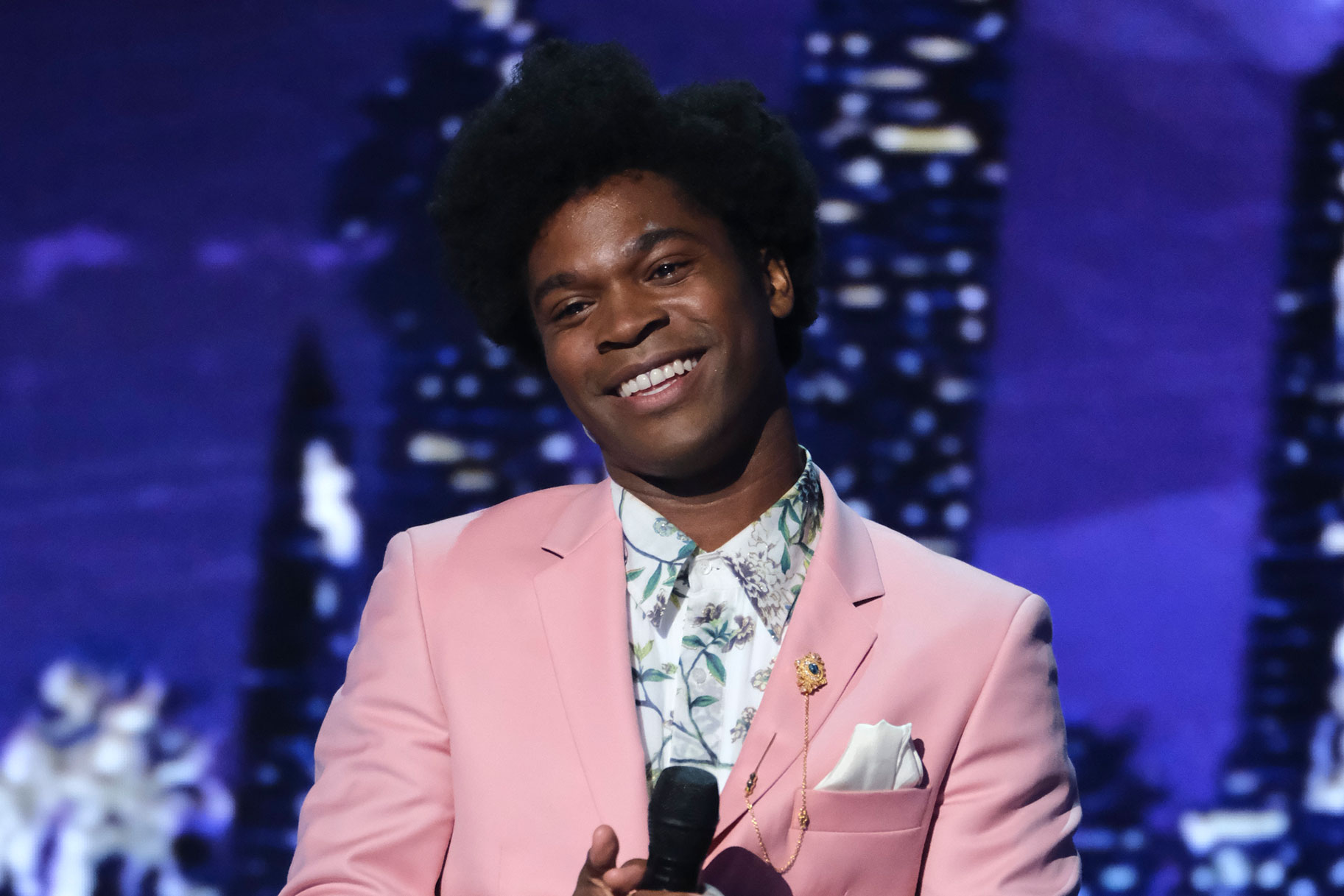 Jimmie Herrod's AGT Season 16 run was so exciting. The popular Contestant charmed both the audience and Judges with his immaculate renditions of classic songs from hit musicals like Annie and Wicked, songs that would be challenging for even the most seasoned Broadway performer to take on. His ambition and other-worldly vocals unsurprisingly landed Jimmie Herrod in the AGT top five, with each performance surpassing the last and defying expectations. 
While the magician Dustin Tavella ultimately took home the Season 16 win, Jimmie Herrod's AGT run remains unforgettable. Ahead of the Season 17 AGT premiere, let's revisit some of his performances. 
Jimmie Herrod's AGT Golden Buzzer Audition 
Success didn't seem to be in Jimmie Herrod's cards when he announced to the AGT Judges he would be auditioning for AGT by singing "Tomorrow" from Annie. "Are you serious? That is my worst song in the world," Judge Simon Cowell revealed, even encouraging Herrod to choose a different track. The Portland-native disregarded the remark and performed an unbelievable performance of "Tomorrow" with his unique twist to the Broadway classic, instantly wow-ing the crowd. The Act was enough to earn a standing ovation from the Judges... and a Golden Buzzer.
Jimmie Herrod's AGT Quarter-Finals Performance 
Jimmie Herrod continued his AGT run by tackling "Pure Imagination" from the 1971 film Willy Wonka & the Chocolate Factory. While many talented vocalists have performed the song, Jimmie Herrod served a stunning spin on the tune, increasing the octave with every verse and shocking the audience with his incredible range. While the song is decades old, Herrod took it and made it new again.
Jimmie Herrod's AGT Semi-Finals Performance
Once the live shows for AGT began, Herrod took to the stage as if he'd been performing for AGT his entire life. His flawless rendition of P!nk's "Glitter in the Air" was nothing short of perfection and launched Jimmie Herrod to the AGT Finals round. 
Jimmie Herrod's AGT Performance of "Defying Gravity"
The finale is always an exciting time for AGT fans. Jimmie Herrod continued his train of magnificent musical performances by singing the classic song from Wicked, "Defying Gravity," alongside fellow competitors, the Northwell Health Nurse Choir. While the track is no simple feat as is, Herrod was also joined by the Tony Award-winning actress, singer, and songwriter who catapulted the track: Idina Menzel. No pressure! However, with Herrod's final beautifully-belted note, there was no denying that the Contestant would defy gravity time and time again. 
Jimmie Herrod's AGT Finals Performance
Jimmie Herrod's last AGT performance was a befitting rendition of Louis Armstrong's "What a Wonderful World." The tear-jerking performance might not have led to Herrod taking home the Season 16 win, but he provided a perfect reminder of the beauty of the little details with his flawless vocals and empathic performance. 
The Season 17 premiere of America's Got Talent is Tuesday, May 31 at 8 p.m. ET on NBC.