NBC Insider Exclusive
Create a free profile to get unlimited access to exclusive show news, updates, and more!
Sign Up For Free to View
Is LA Fire & Rescue Real?
The calls these firefighters and medics answer are explosive — and they absolutely, 100 percent happened. 
The stakes are always high for the firefighters and medics of LA Fire & Rescue. And as the action continues to heat up NBC's new docuseries, many might question: Is this actually happening?
Just like the serialized saviors of Chicago Fire, the emergency personnel of LA Fire & Rescue continue to amaze with their fearless bravery and selfless empathy. Between nail-biting rescue missions and raging wildfires, it's no wonder fans of LA Fire & Rescue might wonder if the action they've witnessed on the show is real. 
If you're in that camp, we have answers, below. 
Is LA Fire & Rescue real?
Yes, LA Fire & Rescue is all true. Every intense call and rescue happened IRL. Also: The series simultaneously showcases the lives of the heroes risking everything to save the day.
To better understand the action happening on our screens, reference the official series description, below:
"From the producers of NBC's hit drama Chicago Fire, comes LA Fire & Rescue, a new docuseries offering unprecedented access to the inner workings of the Los Angeles County Fire Department. Responsible for protecting the lives and property of 4 million residents living in 59 cities across Los Angeles County, the LACoFD's 2,300 square miles of service is unlike any other in the United States."
From helicopter mountain rescues and lifeguard beach SOS, to fireboats, hazmat units and California's raging wildfires, the department does it all. The series documents real calls and real drama while giving faces to the passionate fire firefighters who risk their lives in the name of service. These real-life heroes and their compelling stories are told alongside the unpredictable dangers they face on the front lines of life and death."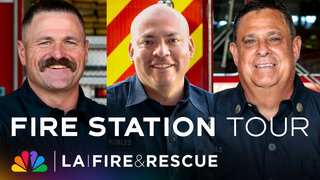 Who are the firefighters of LA Fire & Rescue?
LA Fire & Rescue shines a spotlight on the real-life firefighters and rescue staff within seven Los Angeles firehouses, including Station 8 (West Hollywood), Station 16 (Watts), Station 37 (Palmdale), Station 41 (Compton), Station 101 (Claremont), Station 125 (Calabasas), and Station 172 (Inglewood).
Not only do we get to catch up with our favorite firefighters and captains, we also follow the emergency personnel within the "Angels in the Sky" Air Operations and the L.A. County Fire Department Lifeguard Division. Diving into the personal lives of these firefighters has been a whirlwind watch, and make no mistake: Everything we've seen on LA Fire & Rescue is factual. Case closed!