NBC Insider Exclusive
Create a free profile to get unlimited access to exclusive show news, updates, and more!
Sign Up For Free to View
How to Audition for The Voice
Don't miss your chance to sing your heart out!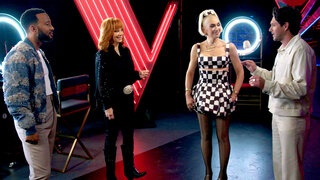 Want to audition for The Voice? Well, it starts with a virtual casting call — and we have all the information you need to know about it right here. 
How old do you have to be to audition for The Voice?
In order to audition for The Voice, you must be at least 13 years old by May 31, 2024. You can audition for the show multiple times. 
RELATED: All of John Legend's Albums and Most Essential Songs
How do I audition for The Voice?
If you're at least 13 years old, you can sign up for the virtual Auditions by going to the show's official casting website, nbcthevoice.com. From there, you can create an account and select your time slot. When it's time to record yourself, you can choose up to one-and-a-half minutes of one song, either a cappella or with instrumentation. Just be sure to have everything prepared! You will be emailed with the results shortly after your Audition.
RELATED: What to Know About All the Reba McEntire Corn Mazes Popping Up Everywhere
If all goes well, from there, as Supervising Casting Director Michelle McNulty told NBC Insider, "We'll ask to have them send multiple songs. If we like what we hear from there, we'll send them to a casting interview where we kind of get to know them a little bit more. And then from there, there's a potential of us asking for additional songs or an additional interview. From there, we have to ultimately present to the producers and network executives. There are definitely cuts along the way. And then after that, we give them a call and say, 'Congratulations, you made it to a Blind Audition.'" 
"To think about where it started and what Season 1 looked like," McNulty also told NBC Insider. "And then to where we are now, it's so mind-blowing to me. When we did our first season of auditions in some cities that we went to, there were 1,000 people there. Or even 500 in some of our smaller cities. There were not that many! And then going into Season 2, where it was literally thousands and thousands—5,000 people and 15 rooms going at one time of auditions happening. It's crazy how big it's gotten."