NBC Insider Exclusive
Create a free profile to get unlimited access to exclusive show news, updates, and more!
Sign Up For Free to View
Hot Wheels™: Ultimate Challenge Winner Talks Trusting Their Gut & Ignoring the Judges
Arushi Garg, winner of Hot Wheels: Ultimate Challenge Season 1, defied the judges' advice and was rewarded for it.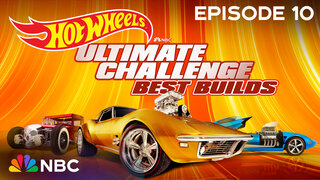 Hot Wheels: Ultimate Challenge has blazed across the finish line, and a winner has been crowned. Arushi Garg, who wowed the judges when she triumphed in Episode 4 with the Jaipur Jewel, won the $50,000 grand prize and had her winning finale car, Rally Resilience, made into an official diecast Hot Wheels toy that anybody can buy. 
"I have never been in this position before where I have gone ahead and done a show of this stature — and somehow won it," Garg told NBC Insider. "You tend to believe in yourself after winning something like this. You can do it, there's no age. You make your own mark."
Garg's competition was fierce. Rally Resilience, a Nissan Skyline that she transformed into a big-wheeled rally car emblazoned with positive messages, bested Nick Harrison's Blazin' Bird and "Jerzey Jim" Farrell's Superfanvan. 
Farrel, who turned a Volkswagen Van into a purple hot rod, explained that he "came into the finale hot," but that he quickly realized how formidable his opponents were. 
"When I started to see the designs that they were coming up with, then it started to change for me," Farrell recalled. "This is a real competition that Arushi and Nick want to win just as bad. When I looked over and saw Nick's Pontiac Trans Am transform into one of the craziest Trans AMs I've ever seen, and Arushi's car becoming a four-wheel drive Nissan, that's when I knew it was on."
RELATED: All the Hot Wheels: Ultimate Challenge Finale Contestants Are Here to Win
"I was given one of the coolest cars," Garg said of the Nissan Skyline she was given for the finale. "I knew what I wanted it to look like."
Her winning vehicle is quite different from the modest sedan she started with, as she notably raised the Skyline well off the ground and put it on big rally-style wheels. It was a controversial design choice that paid off. Judges Dalal Elsheikh and Hertrech "Hert" Eugene Jr. along with host Rutledge Wood cautioned her against the wheels during the building process. Ted Wu, vice president of global vehicle design for Hot Wheels even told Garg that the big wheels she was planning on putting on the Skyline didn't work aesthetically.
You would think, if you're designing a would-be Hot Wheels, you might heed the advice of somebody who is in charge of designing actual Hot Wheels. Not Garg. 
"One of my favorite moments was telling Ted that I'm going to stick to my guns and make these wheels bigger. I knew that I was one of the critiques that I got every time the judges saw my car. They were not behind those wheels, they were not happy with the wheels," Garg recalled. "I stuck to my gut and I kept pushing them back."
Her confidence paid off, as Rally Resilience was ultimately deemed the winner. Guest judge Jay Leno even said it felt like the car that a kid would enjoy playing with the most.  
("I've never been nervous around people — I am a social person — and to see Jay Leno there, I was a little nervous," Garg admitted. "It was nice to be around him and it felt like I've kind of made it.")
RELATED: Hot Wheels: Ultimate Challenge Finale Guest Judge Jay Leno Is Looking for "Imagination"
Leno's kid-friendly instincts about the Rally Resillance were dead-on. Whereas Jaipur Jewel, a tribute to Garg's Indian heritage, was very specific and personal to her, her build for the finale was deliberately more universal. 
"The Jaipur Jewel was about me — my culture, my family, but this car is about everyone, about every kid anywhere in the world. I had to detach my identity and my life from that and I wanted to put in everything that I would want to do for others."
Having built not one but two winning Hot Wheels: Ultimate Challenge cars, Garg can't pick a favorite. 
"I am very proud of both. It's like choosing between your kids. These are my two babies," she said. "Jaipur Jewel got me to where I am, and Rally Resilience made me win. They both have an important process in the journey."
Stream all episodes of Hot Wheels: Ultimate Challenge on Peacock and check out the official Ultimate Challenge after show, Best Builds.