NBC Insider Exclusive
Create a free profile to get unlimited access to exclusive show news, updates, and more!
Sign Up For Free to View
How a Surprise Homage to a Son's Remission Helped This Hot Wheels™: Ultimate Challenge Contestant Win
The Hot Wheels: Ultimate Challenge Episode 6 winner ended up with a far more emotional result than anyone thought possible.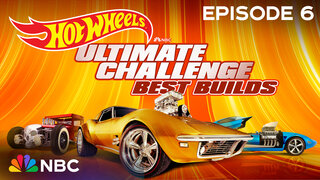 Every Hot Wheels™ Super Fan who's competed on NBC's Hot Wheels: Ultimate Challenge has had a direct emotional link to the car they're transforming. But for Ultimate Challenge Episode 6 winner, Luigi, his final build was even more emotional than initially expected.
Luigi's 1996 Toyota Camry was transformed into the "Mountain Mover," a homage to his young son, who recently went into remission after a long battle with cancer.
Host Rutledge Wood referred to Luigi's build as a "Rat Rod," which the series' official after show Best Builds explains is "a custom car with a deliberately worn-down, unfinished appearance, typically lacking paint, showing off rust, and made from cheap or cast-off parts." It was the perfect interpretation of the Inspirationator 5000's last-minute challenge to integrate a post-apocalyptic feel to the car. But these descriptors didn't stop Luigi's car from being beautiful — the opposite, really. Thanks to Car Pooler Claudia's work in crafting metal flowers out of gramophones, the Mountain Mover is even more of a testament to Luigi's son's journey. 
RELATED: On Hot Wheels™: Ultimate Challenge, Finding the Line Between Toy and Car Is the Real Challenge
As judge Dalal Elsheikh explains in Best Builds, in the episode, Luigi had a moment in which he realized the flowers looked familiar. It turned out the flowers on the car were almost a perfect match to the flowers engraved on a coin Luigi's son received upon entering remission and completing his cancer treatment. And it was a total coincidence! 
"I mean, you can't write that kind of stuff," Elsheikh said.
"I'm such a firm believer that energy just brings you where you need to be," judge Hertrech Eugene Jr. said. "And that is a strong case of that. It was so crazy that she was drawing and it was like 'Boom, flowers,' and then they made these awesome flowers out of gramophones." 
Wood also took a moment in the after show to reflect on the way Luigi and his son's story impacted everyone in the garage. 
RELATED: Hot Wheels™: Ultimate Challenge Soars in Peacock Next-Day Ratings
"To see the emotion and the way that everybody in the garage — you know, everyone's affected by cancer in these very different ways ... for Luigi to be fighting for his son and to luckily be in remission, it's just so crazy that cars are this connecting thing through everybody's life in a different way," Wood said.
To see how Luigi's Mountain Mover stacks up against the other winners, check out new episodes of Hot Wheels: Ultimate Challenge when they air on Tuesdays at 10PM ET/PT on NBC. You can catch up the next day on Peacock.
New episodes of the official Ultimate Challenge after show, Best Builds, air after each new episode.