NBC Insider Exclusive
Create a free profile to get unlimited access to exclusive show news, updates, and more!
Sign Up For Free to View
Hot Wheels™: Ultimate Challenge Host Explains Why New Series Isn't Just for Car People
Rutledge Wood says NBC's new show is much more emotional than you might expect.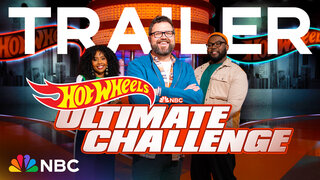 Chances are you've driven a car. And, chances are you probably played with Hot Wheels™ when you were a kid. But, even if you don't consider yourself a gearhead, NBC's new reality competition series Hot Wheels: Ultimate Challenge is for you, according to host Rutledge Wood. 
"If you watch Top Chef, it doesn't mean that you are a great chef. And I think in the same way, this show, not only will it teach you a lot about the fun things that it takes to build a car, but you're also learning a ton about people," Wood said at the Hot Wheels: Ultimate Challenge press event ahead of the show's premiere on May 30 at 10PM. "To me, this is a show about people that features cars, and it's got Hot Wheels in it. I don't think this is a car show that features people."
RELATED: On Hot Wheels™: Ultimate Challenge, Finding the Line Between Toy and Car Is the Real Challenge
Perhaps the biggest reason why Hot Wheels: Ultimate Challenge is a more human experience than one might expect from the series — which features two people competing to transform a regular car into a life-size Hot Wheels-inspired whip — is that the contestants aren't just transforming any old car. Every week, each contestant starts with a car that has some connection with their past — not the specific car, but one of the same make and model that carries significance for them. 
"It's way more emotional than I would have ever guessed," Wood said. "Sometimes the car that we're reuniting people with, they haven't seen since this time or this place in their life, which could be good or bad or indifferent. It's really wild to see that immediate, visceral response."
From there, Wood said, the contestant's job is "turning this car into whatever they think this car should be."
"If you always dreamed of having a pickup truck but it turns out you had a Toyota Camry, we've got a lot of work to do!" he said. "We help them design something that they think would be indicative of who they are. They're trying to put as much of their personality, their style, and their story, into a build. So, that's how they get wild. Whether it's a monster truck or a '69 Dodge Charger that'll do a wheelie, it's really about making this car completely customized to the person."
Guest judge Terry Crews told NBC Insider that he was surprised by how emotional the show was, noting that there were a lot of laughs, but there were also a lot of tears, because it meant so much to people who grew up with these cars."
Actor Anthony Anderson, another guest judge, echoed the sentiment.  
"Dreams are coming true. Dreams are being made into reality and people are having these shared experiences from childhood to adulthood and seeing it come full circle," Anderson said. "I'm pretty sure it was emotional." 
"It will blow your mind the way that people can feel seen through a vehicle like this," Wood concluded. 
Hot Wheels™: Ultimate Challenge premieres on NBC on May 30 at 10PM.