NBC Insider Exclusive
Create a free profile to get unlimited access to exclusive show news, updates, and more!
Sign Up For Free to View
The Best Holiday Movies to Watch on Peacock in 2023
Festive entertainment for every taste, from classics like How the Grinch Stole Christmas to fresh originals like Genie starring Melissa McCarthy.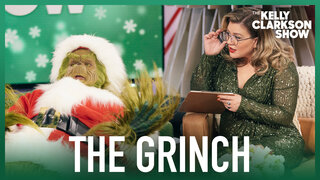 No matter what you celebrate, the November and December months are a wonderful time to gather friends, family, and other loved ones, get cozy around the TV, and screen some wholesome holiday movies. Whether your must-watch list consists of classic fare like the animated How the Grinch Stole Christmas or you're eager for fresh, festive originals like Genie starring Melissa McCarthy premiering on Peacock November 22, you'll find plenty of picks for every taste on NBC's streaming app.
Not sure where to start when it comes to the slew of holiday movies out there? Peacock has your back with its vast array of merry picks (in 2023, those include a rotating selection of Hallmark holiday movies!).
Here are some of the best holiday movies on Peacock—time to make some hot chocolate and get to streaming. 
RELATED: How to Watch Hallmark Holiday Movies on Peacock
1. How the Grinch Stole Christmas (1966)
A classic holiday tale, the original animated version of the Dr. Seuss book follows a curmudgeon named The Grinch who lives by himself in a town named Whoville and is staunchly bitter about Christmas. However, with the help of a little girl named Cindy Lou Who, he then recognizes the beauty of the holiday spirit, which caused his heart to grow. 
You'll find even more Grinch-y goodness on Peacock: 2018's The Grinch voiced by Benedict Cumberbatch, and Dr. Seuss' The Grinch Musical! starring Matthew Morrison as the green guy. 
2. Lez Bomb (2018)
This critically-acclaimed LGBTQ+ comedy takes place during Thanksgiving, when a closeted lesbian named Lauren decides to come out to her family by bringing her girlfriend to dinner. However, hilarity ensues when Lauren's male roommate gets mistaken for her boyfriend. Spreading a message of love and acceptance, this movie will both make you laugh and fill your heart.
3. One Special Night (1999)
Starring the legendary Julie Andrews and James Garner, this romantic drama follows a doctor (Andrews) and a man named Robert who take shelter together in a cabin during a blizzard on Thanksgiving Day. Although they get off to a rocky start, they slowly begin to coax each other out of their shells, and eventually end up falling for one another.
4. The Little Drummer Boy (1968)
From the same animators who brought you other holiday classics such as Rudolph the Red Nose Reindeer and Frosty the Snowman, this stop-motion picture movie is a delight for the whole family. Based on the song of the same name, it tells the story of an orphaned boy named Aaron who can make animals dance with his beloved drum.
5.The Housewives of the North Pole (2021)
Starring RHONY's Kyle Richards and Betsy Brandt of Breaking Bad fame, this Peacock original shows two best friends who live in a town called North Pole, Vermont. After a major argument, the fiercely competitive women decide to go head-to-head for a holiday house-decorating competition, an event that gains national media coverage.
6. A Christmas Carol (2000)
An adaption of the beloved Charles Dickens novel of the same name, this particular version tells the story of a miserable loan shark living in London. After his business partner is murdered shortly before Christmas, Scrooge begins to be haunted by three ghosts of the past, present, and future.  
7. Dear Santa (2011)
This romantic drama tells the tale of a young, privileged woman named Crystal (Amy Acker) who's lost in her place in life. Then one day, she discovers a little girl's letter to Santa, asking for a new wife for her widowed father. Determined to add some good into the world, she decides to track this family down and help them run their business. What unfolds next will have you reaching for the tissues.
8. Genie (2023)
With a script by Love Actually writer Richard Curtis, Genie is a fairy-tale comedy set in New York City during the holidays. Bernard Bottle (Paapa Essiedu) is a man whose personal life falls apart as he tries to appease his boss (Alan Cumming). Enter a wish-granting genie named Flora (Melissa McCarthy), who's about to add some magic to Bernard and his loved one's lives. 
RELATED: Every Holiday Special Airing on Peacock This Year
9. Almost Christmas (2016)
Who doesn't love the heartwarming "mildly dysfunctional family comes together to rediscover what Christmas means to them" trope in a holiday movie? Especially when the cast is this good: Danny Glover,  Mo'Nique, Omar Epps, for starters, and even legendary singer Gladys Knight makes an appearance. 
10. Casper's Haunted Christmas (2000)
This one's for the families who hesitate to swap out their Halloween decorations for a Christmas tree when October's over, because fans of a slightly spooky Christmas exist! In this 90-minute movie, the ruler of the ghost world says Casper has to scare at least one person on Christmas Eve, or else. Maybe his naughty cousin who happens to look exactly like him can help?
11. The Christmas Train (2017)
In this holiday romance, a journalist (Dermot Mulroney) travels the country by train–and you know he finds love on his journey! The Hallmark movie costars Kimberly Payne Williams-Paisley, Joan Cusack, and Danny Glover. 
12. Curious George: A Very Monkey Christmas (2009)
This hour-long Christmas special starring the iconic monkey and his best friend deals with the eternal question: Which gift to choose for the person you love most. Were Curious George and the Man in the Yellow Hat the o.g. Ross Geller and Marcel? 
13: Psych: The Movie (2017)
The first of three Psych movies on Peacock finds the detective pals from USA's legacy series bringing the same wonderfully silly and clever energy to a new investigation during the holiday season. Here, the action's moved from Santa Barbara to San Francisco, where Shawn (James Roday), Gus (Dulé Hill), and Juliet (Maggie Lawson) moved at the series' end.
14. Christmas in the Smokies (2015)
This cozy holiday romance is set against a breathtaking mountain landscape with festive wreaths, garlands and trees are in nearly every shot. Shelby (Sarah Lancaster) is trying to save her family's berry farm from foreclosure when her high school ex-turned-country star, Mason Wyatt (Alan Powell), comes back into her life. 
15. Mixed Nuts (1994)
Sixteen-time Saturday Night Live Host Steve Martin stars with fellow 1980s comedy icon Madeline Kahn in this offbeat Nora Ephron movie that's for adults only. Martin plays a crisis hotline employee who encounters all manner of zaniness one night during the holiday season. Keep an eye out for a young Juliette Lewis, Rita Wilson, Adam Sandler, Jon Stewart, Parker Posey, and more funny familiar faces.
Originally published Nov 2, 2022.