NBC Insider Exclusive
Create a free profile to get unlimited access to exclusive show news, updates, and more!
Sign Up For Free to View
Catch the Candid Moment Gwen & Blake Exchange "I Love You's" at The Voice After Party
Stefani surprised her hubby during the festivities celebrating his final season on The Voice.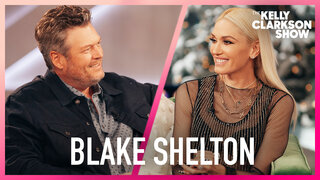 Gwen Stefani surprised her husband Blake Shelton after his last episode of The Voice!
In a video uploaded to Stefani's official Instagram page, we first catch a glimpse of her sneaking up behind Shelton while holding a camera while he's out socializing during his The Voice after party. When he sees her, he immediately lets out an exclamation of joy, as she leaps into his arms and the two embrace. Shelton then showers his wife with a long smooch on Stefani's cheek while she grins from ear to ear. 
"I made it!" Stefani cheers.
"I knew you were coming!" Shelton responded.
"You did?" Stefani asked in excitement. 
We then see Shelton and Stefani sharing another passionate kiss while Shelton has a drink in hand and the crowd cheers them on. In the next bit of the video Stefani, Shelton, and the crowd rock out to Stefani's classic No Doubt hit, "Just a Girl" while Shelton mouths along to the lyrics. 
Later, a fireman apparently came to the party because an alarm was set off. "Is it because my wife is here and she's so hot?" Shelton quipped, to which Stefani chuckled loudly. 
After the couple said their goodbyes to the crowd, they got into a vehicle and filmed their departure. "Leaving Universal, and getting to the rest of the universe to see what else is out there," Shelton remarked sentimentally. 
"Congratulations. You're a huge star," Stefani said with a giggle.
"I'm so happy you came here. I'm not kidding. I love you," Shelton said warmly, gazing at his wife. 
"I love you," Stefani responded sincerely. 
"There is no one like u, @blakeshelton ♥️♥️" Stefani captioned the post. 
She certainly means it, as the "Cool" singer expressed a similar sentiment at Shelton's Hollywood Walk of Fame induction earlier this month. During her heartfelt speech, she talked about what her husband means to his family and fans. 
"Blake, you are a rare human being, and for all the success that you have had in your life as a singer, a songwriter, a musician, a performer, an entertainer, an actor, a comedian, an entrepreneur, he's the same guy today as he was back then. A country guy with a lot of love for country music. He's magnetic, the most generous person you'll ever know, and always just him no matter where he goes. Making people laugh, making people happy, making jokes. The reason Blake Shelton is here today on the Hollywood Walk of Fame is because you are part of the country dream, the Hollywood dream, and you are part of the American dream. And everybody knows you are my dream come true. I love you," she said.