NBC Insider Exclusive
Create a free profile to get unlimited access to exclusive show news, updates, and more!
Sign Up For Free to View
Dolly Parton Had the Best Response to Chapel Hart's 'You Can Have Him, Jolene'
"From 1973 to 2022, we could not still be fighting over the same man," Chapel Hart said about their original song, which is a response to Parton's classic "Jolene."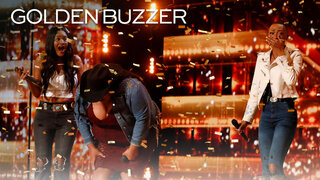 America's Got Talent never fails to get audiences talking, and this season, we've already seen some unbelievably talented Acts grace the stage. The country band Chapel Hart was so impressive, they got the Group Golden Buzzer—and a special shoutout form the queen of country music herself, Dolly Parton. 
The trio (featuring Danica Hart, Devynn Hart, and Trea Swindle) performed an original song inspired by Parton's classic hit "Jolene." It's called "You Can Have Him, Jolene." 
"We were so inspired by the song 'Jolene,' and we just love the storyline. And we figured, though, from 1973 to 2022, we could not still be fighting over the same man," singer Danica Hart explained. "So we decided to tell her, 'You can just have him, Jolene.'" 
Parton had nothing but praise for the Chapel Hart ladies in a recent tweet. "What a fun new take on my song!" she wrote. "Carl's [Parton's husband] birthday is today, so I think I'll hang on to him, and I'm not notifying Jolene that today is his birthday."
After their show-stopping performance, Chapel Hart opened up about how tough it's been to break into the country music industry as Black women. 
"We've been trying to break into Nashville for the last couple years, but it's been kind of hard, when, I think, country music doesn't always look like us," said Danica. 
Judge Simon Cowell had some powerful words of encouragement for the ladies. "You know what you've gotta do sometimes? You've just got to break down that door," he said. " And you may have just broken down the door with that performance, trust me."