NBC Insider Exclusive
Create a free profile to get unlimited access to exclusive show news, updates, and more!
Sign Up For Free to View
Blake Shelton Covered Tom Petty's 'I Won't Back Down' For an Important Reason
A song about staying strong! Watch Blake Shelton on Season 23 of The Voice on NBC.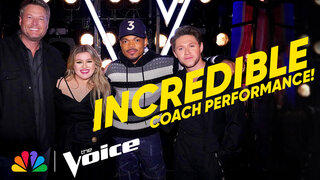 Blake Shelton recently teamed up with a powerful cause to release an epic rendition of "I Won't Back Down" by Tom Petty. (Watch it here.)
The Voice Coach collaborated with the non-profit Miraculous Love Kids, an organization that teaches guitar to young girls in Afghanistan. During this uplifting cover, Shelton sang the lead vocals. The song's lyrics are fitting to the organization's cause, as they encourage others to be resilient during times of hardships and to stand up to oppressors.
"Well, I won't back down, no I won't back down, you could stand me up at the gates of Hell, but I won't back down," Shelton started off the song with determination while members of the Miraculous Love Kids harmonized with him in the background.
Then, the drums and bass kicked in. "No I'll stand my ground, won't be turned around, and I'll keep this world from draggin' me down, gonna stand my ground, and I won't back down," Shelton continued while the clip showed members of the organization strumming their guitars outdoors.
"Well, I know what's right; I got just one life. In a world that keeps on pushin' me around, but I'll stand my ground, and I won't back down," Shelton and the Miraculous Love Kids sang with passion.
Lanny Cordola, a musician and founder of Miraculous Love Kids, spoke about why this song was chosen specifically.
"When I was working to get the girls out of Afghanistan, "I Won't Back Down' became our anthem to never give up no matter what the circumstances or odds in our pursuit of freedom, justice, equality and peace," Cordola said, according to ABC News. "It's not only for the girls and women of Afghanistan, but for all oppressed people of the world. As Tom Petty so powerfully wrote 'You can stand me up at the gates of hell but I won't back down. Hopefully their involvement will bring more awareness about Afghan refugees like the girls and their quest for a better life." 
Shelton recorded the "I Won't Back Down" cover with Miraculous Love Kids in November 2022, along with Joe Walsh and Timothy B Schmidt from the Eagles and Guns N Roses drummer Matt Sorum, according to Billboard.
"The girls and I are honored to have Blake, Joe, Timothy and Matt join us in spreading this message far and wide," Cordola said in a statement.
Watch Shelton on The Voice on NBC Mondays at 8/7c and Tuesdays at 9/8c and next day on Peacock.