NBC Insider Exclusive
Create a free profile to get unlimited access to exclusive show news, updates, and more!
Sign Up For Free to View
Benjamin Levy Aguilar Shared the Most Adorable Baby Photo for Mother's Day
The Chicago P.D. star heavily star resembles his mom!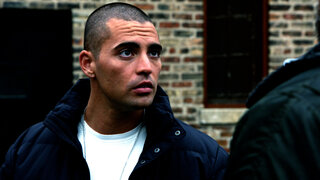 Benjamin Levy Aguilar is a momma's boy!
This Mother's Day, the Chicago P.D. star — whose played officer Dante Torres since Season 9 — took to his official Instagram page to share a series of vintage snapshots, giving a loving shoutout to the amazing woman who helped make the accomplished actor into the person he is today.
In the array of photos, we catch a glimpse of Aguilar's mother holding him when he was an adorable toddler. Then we see some glimpses of her when she was younger herself, even including a hilarious picture of her holding a live monkey!
In the caption, Aguilar went on to tell his fans about what his mother means to him and how she's supported him through his acting career. 
"Who gives a f--- Benjamin, you can do ANYTHING you want to do in this life and f--- anyone that thinks we are crazy. Who is saying that? I'll f--- them up. I believe in you. I have no doubt. you hear me? NO DOUBT. I'll sell my car, my jewelry, my watch? My home. Anything. I believe in you. What do you need?,'" he said.
The actor continued, "'Thanks ma, i just need headshots right now.'"
But Aguilar wasn't done there, as he elaborated on how his mother's attitude gave him major confidence. 
" 'Why don't we get you a limousine for your auditions so you show up and feel like a f------ star?'
- 'No ma, i dont need a limousine, that would be weird, and you can't even pay rent right now, I just need more experience.'

- 'Why not? What would Leonardo DiCaprio do?'
- 'I don't think Leonardo DiCaprio showed up in limousines to auditions but I get your point. But no, I'm good. I'll talk to you later, I love you'".
The Chicago P.D. stars, who's originally from Guatemala, continued in Spanish, "Mami linda. Gracias por mi vida. Y por enseñarme a nadar en contra de la corriente! Sin salvavidas y con la frente en alto! Gracias por tu amor incondicional. Gracias por creer en mi. ♥️ And thank you for building me into the man I have become. You didn't have it easy. Far from it. Tu eres mi héroe. Te celebro hoy en el dia de las madres. Y el resto de mi vida. 🤍."