NBC Insider Exclusive
Create a free profile to get unlimited access to exclusive show news, updates, and more!
Sign Up For Free to View
Ariana Grande Hit Glass-Shattering Whistle Notes Singing This Song from Grease
She sounded like a pure angel!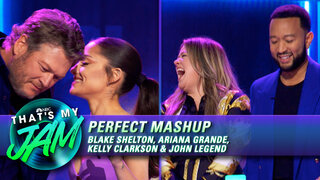 To celebrate her introduction as a Coach on The Voice in Season 21, pop star Ariana Grande chose to sing  a song for the other three Coaches as a formal induction. Her selection? She went back to her musical theater roots by crooning "Hopelessly Devoted to You" from Grease, originally sung by Olivia Newton-John. 
In a fun Season 21 teaser clip, Kelly Clarkson, John Legend, and Blake Shelton all sat together in a circle on a scenic starry night. 
"I'm not sure if you're aware, but we kind of have a tradition," Clarkson told Grande.
"Yeah, the new Coach has to sing us a song around the campfire," Legend explained. 
"Oh my god, that's so awkward, I couldn't possibly..." Grande responded shyly. However, she then whipped out a microphone without hesitation, and a glowing spotlight beamed on her. 
Shelton promptly strummed on his guitar while Grande sang the bridge in a super clear tone, flipping into some elegant head voice. Sounding like a princess, animals became to swarm around her, drawn to her enchanting sound. 
"This is going to be an amazing season," Shelton said with a nod before Grande hit some pleasantly piercing whistle notes. 
All About "Hopelessly Devoted to You" by Olivia Newton-John
Originally recorded for the 1978 movie-musical Grease, the song reached the number three position on the Billboard charts that year. In the movie, the main character Sandy sings the song when she still longs for Danny even when he constantly ignores her. 
"Hopelessly Devoted to You" by Olivia Newton-John Lyrics
Guess mine is not the first heart broken
My eyes are not the first to cry
I'm not the first to know
There's just no getting over you
I know I'm just a fool who's willing
To sit around and wait for you
But baby, can't you see there's nothing else for me to do?
I'm hopelessly devoted to you
But now there's nowhere to hide
Since you pushed my love aside
I'm out of my head
Hopelessly devoted to you
Hopelessly devoted to you
Hopelessly devoted to you
My head is sayin', "Fool, forget him"
My heart is sayin', "Don't let go
Hold on to the end", that's what I intend to do
I'm hopelessly devoted to you
But now there's no way to hide
Since you pushed my love aside
I'm outta my head
Hopelessly devoted to you
Hopelessly devoted to you
Hopelessly devoted to you