NBC Insider Exclusive
Create a free profile to get unlimited access to exclusive show news, updates, and more!
Sign Up For Free to View
Amy Schumer Pokes Fun at Rowdy New York Jets Fans in This Hilarious SNL Sketch
Because it's not just a game.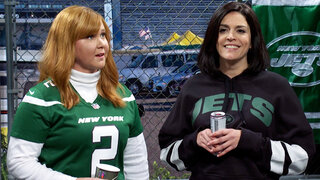 There are competitive football fans, and then there are New York Jets fans. The difference between the two might shock you in a recent Saturday Night Live sketch making fun of the rowdy nature of Jets tailgating. It's not an easy day to be a Bills fan.
Amy Schumer hosted the November 5 SNL episode, and the New York native and stand-up comedian paid tribute to her roots in a sketch about trash-talking New York Jets fans attending a tailgate. Cecily Strong, Andrew Dismukes, Kenan Thompson, and Schumer play four suburbanites standing around a grill drinking a few White Claws, chatting about how lucky they are to get together, noting the "great tailgating weather" and delicious macaroni salad. Their pleasantries come to an abrupt end when a rival Bills fan enters the group's sight, at which point all four Jets fans go a little crazy. 
Schumer's voice dropped to a hilariously low growl as she yelled, "Hey! Bills Jersey! You're wearing the freaking wrong shirt, you freaking A-hole!" Strong joins in immediately, with their partners also adding to the verbal attacks.
While the Jets fans' remarks are hilarious, the punchline of the sketch lies in the group's effortless ability to switch right back to talking about the menial motions of the average workweek, such as one of their sons getting bullied at school. "Where do kids even learn this stuff?" Dismukes asked immediately before another Bills fan came into view. 
Watch the full sketch, above. 
Can't get enough Saturday Night Live? NBC.com has so many classic moments ready to watch whenever you want. Here's how:
How can I watch classic Saturday Night Live sketches? 
NBC.com is a great place to start. See below: 
Watch Saturday Night Live Saturdays at 11:30/10:30c on NBC and the next day on Peacock.