NBC Insider Exclusive
Create a free profile to get unlimited access to exclusive show news, updates, and more!
Sign Up For Free to View
Inside Singer Keren Montero's 'Beautiful, Powerful' AGT: All-Stars Performance
From soft-spoken to full-on belting!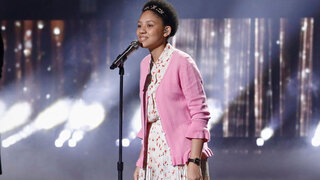 America's Got Talent: All-Stars has featured some mind-blowing performances so far. And 17-year-old singer Keren Montero is no exception.
When Montero—winner of Dominicana's Got Talent in 2021—stepped onstage, she had a shy demeanor. But that shyness dissolved when she started singing. "I know I'm a celebrity in my country, but this is my chance for the whole world to know who I am," she said.
For her All-Stars performance, she opted to sing "Rescue" by Lauren Daigle. The set started with some slow piano chords. "You are not hidden; there's never been a moment you are forgotten," she crooned with a heavy, powerful tone.
"You are not hopeless; though you have been broken, your innocence stolen. I hear you whisper underneath your breath, I hear your SOS, your SOS," she continued with passion.
Then, she showed off her true vocal range when the chorus hit. "I will send out an army to find you in the middle of the darkest night, it's true. I will rescue you. I will never stop marching to reach you in the middle of the hardest fight; it's true. I will rescue you," she belted her heart out.
When the song was over, the crowd erupted in applause. "Y'know what? I think you gave yourself a real shot just then in this competition. I really do. You have such a powerful and beautiful voice. You sound amazing," Heidi Klum gushed.
"I love the range of when you're very soft spoken to being able to belt it out. You made your country and your family very proud of you," Howie Mandel added.
Judge Simon Cowell was impressed, too, but elected to offer some constructive feedback. "Honestly, the talent we're seeing from all over the world this year, it's actually quite astonishing. So if you want my honest advice: It is that when you come on a show like this or anything, you've got to find a song and you've got to turn it into your unique version. I liked it, but I think sometimes you've gotta do something no one's ever done before. But I really like you," he said.
Watch AGT: All-Stars Mondays at 8/7c on NBC and next day on Peacock.