NBC Insider Exclusive
Create a free profile to get unlimited access to exclusive show news, updates, and more!
Sign Up For Free to View
Everything to Know About Carrie Underwood's Sunday Night Football Song
Carrie Underwood is as much a part of Sunday Night Football as the broadcasting crew.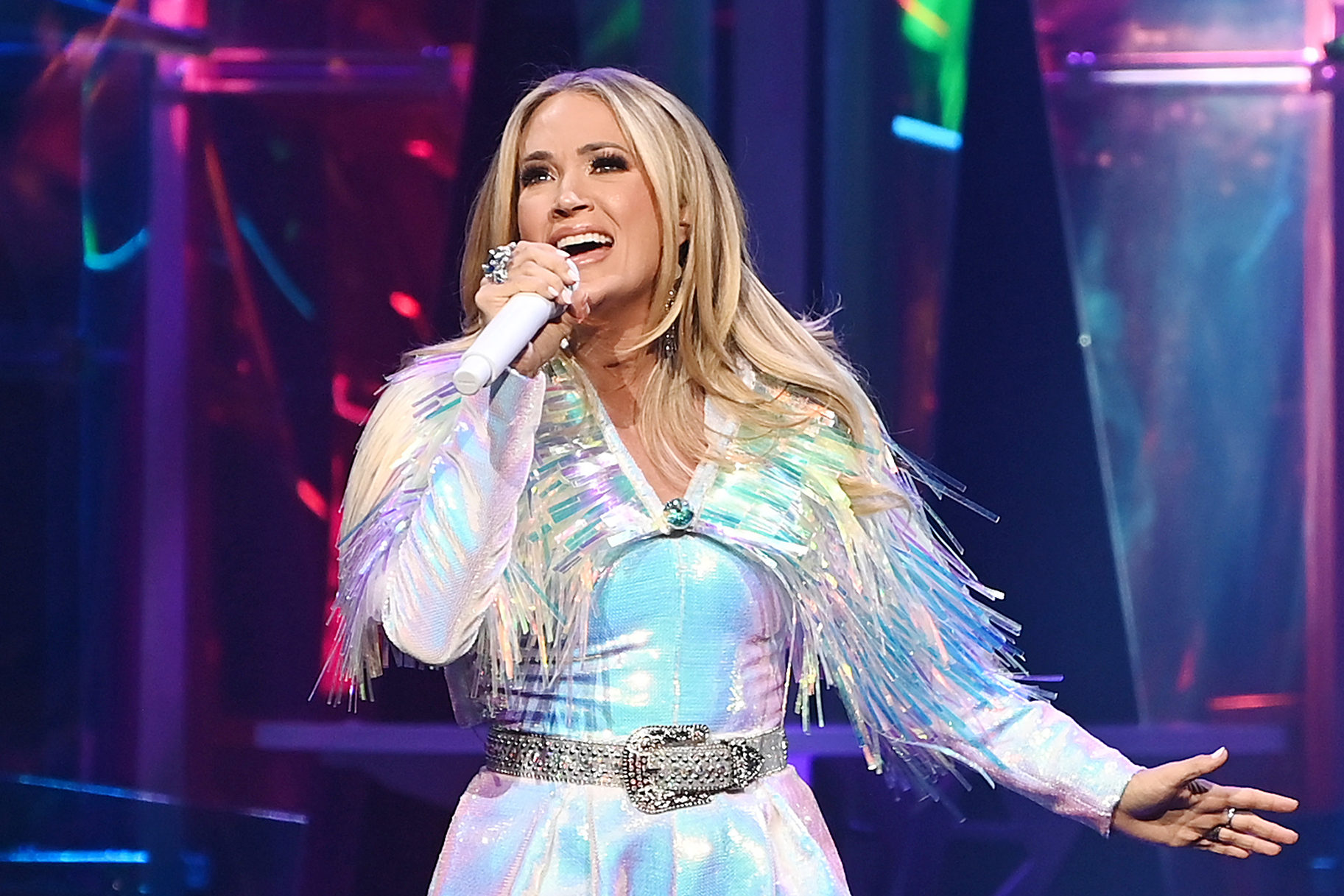 When you tune into Sunday Night Football on NBC, there are certain things you expect: A great game to close out your weekend, fun commentary from Mike Tirico and Chris Collinsworth, and of course, Carrie Underwood performing the show's theme song. This season marks a full decade since Underwood took over theme music duties for Sunday Night Football, and a surprise addition to this season's opening video package made it among her best theme performances yet. 
RELATED: Reba McEntire and Carrie Underwood Perform a Thrilling Live Duet
So, in honor of a decade of Carrie Underwood performing the intro tune, let's take a closer look at the Sunday Night Football theme.
A History of the Sunday Night Football Theme
Just like Monday Night Football on ABC, NBC's Sunday Night Football needed a great music package from the start to make it a memorable show worth tuning in to see every week during the NFL season. So, the network snagged Oscar-winner John Williams to write the fanfare music you hear as the camera sweeps over the stadium to begin each game, but even that wasn't enough. A theme song with a video package starring a popular recording artist was also a key ingredient. 
At Sunday Night Football's launch in 2006, that duty fell to Pink, who sang a cover of Joan Jett's "I Hate Myself For Loving You" with lyrics reworked to make the song about football and the Sunday Night Football experience. The next year, county artist Faith Hill took over for Pink with a variation on the same song. Over the next several seasons, Hill helped institute the Sunday Night Football tradition of making each new season's intro a little different with the addition of guest stars, changes of scenery, and much more. 
In 2013, Underwood took over from Hill as Sunday Night Football's resident country music superstar, performing what's now becoming the iconic reworking of "I Hate Myself For Loving You" that's been dubbed "Waiting All Day for Sunday Night." The song has changed a bit over the years, and at certain points during her tenure Underwood even went with a different tune altogether, but "Waiting All Day" is the theme that stuck, and it's the theme we have now, in Underwood's 10th season with the show.
What's Different About This Year's Sunday Night Football Theme
As with previous seasons, the 2023 kickoff of Sunday Night Football featured a new version of the intro song, performed once again by Underwood, who filmed the segment at The Resorts World Theatre in Las Vegas, home to her Vegas residency show. A live crowd cheered Underwood on in the intro as the performance was intercut with footage of the teams facing off each week. That's all something we've come to expect from the intro, but this time around, Underwood added a little something special. 
Can Carrie Underwood Play the Drums?
Yes! Near the end of this season's performance, Underwood throws her microphone away and ends up behind a drum kit onstage, drumming along to the intro with real intensity. It's not something many fans are used to seeing Underwood doing, which has led many to wonder: Was Underwood actually playing the drums?
The answer is yes. The country superstar told Rolling Stone back in 2019 that she loves performing behind the drum kit whenever possible, and has even stepped behind the drums at her live shows while touring the country. So the next time you watch Sunday Night Football, you can tell all your friends and family that Carrie Underwood is indeed breaking out an actual drum solo. 
Sunday Night Football continues its season this Sunday with the Buffalo Bills vs. the Cincinnati Bengals, airing Sunday at 8:20 p.m. Eastern on NBC, and streaming simultaneously on Peacock.