NBC Insider Exclusive
Create a free profile to get unlimited access to exclusive show news, updates, and more!
Sign Up For Free to View
Why Blake Shelton Says Gwen Stefani Was 'Literally Sobbing' After The Voice Finale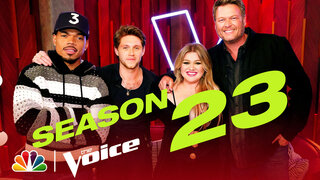 Season 22 of The Voice has officially wrapped, and fans are feeling all the feelings—as is Coach Gwen Stefani, who Blake Shelton said was "literally sobbing" once the cameras stopped rolling on December 13th. And the reason for her tears is very sweet. 
"I walked over to Gwen's chair after the cameras went off and she's over there literally sobbing," Shelton told Entertainment Tonight. "She was like, 'This is our last time that we're going to do this together.'"
The Voice is quite sentimental for Shelton and Stefani. The couple met as Coaches back in 2014, and they tied the knot seven years later. Season 22 of the show marked the first time Stefani and Shelton were on as both Coaches and a married couple. 
And as Stefani said, it will be the last time, too. Shelton announced several months back that Season 23 of The Voice (premiering March 6, 2023 on NBC) will be his last as a Coach. 
"I've been wrestling with this for a while, and I've decided that it's time for me to step away from The Voice after Season 23," Shelton said in a statement. "This show has changed my life in every way for the better, and it will always feel like home to me. It's been a hell of a ride over these 12 years of chair turns, and I want to thank everyone at The Voice from NBC, every producer, the writers, musicians, crew and catering people; you are the best."