NBC Insider Exclusive
Create a free profile to get unlimited access to exclusive show news, updates, and more!
Sign Up For Free to View
Who Is Louie From Chicago Fire?
Here's what happened with the little boy Gabby Dawson and Matthew Casey tried to adopt.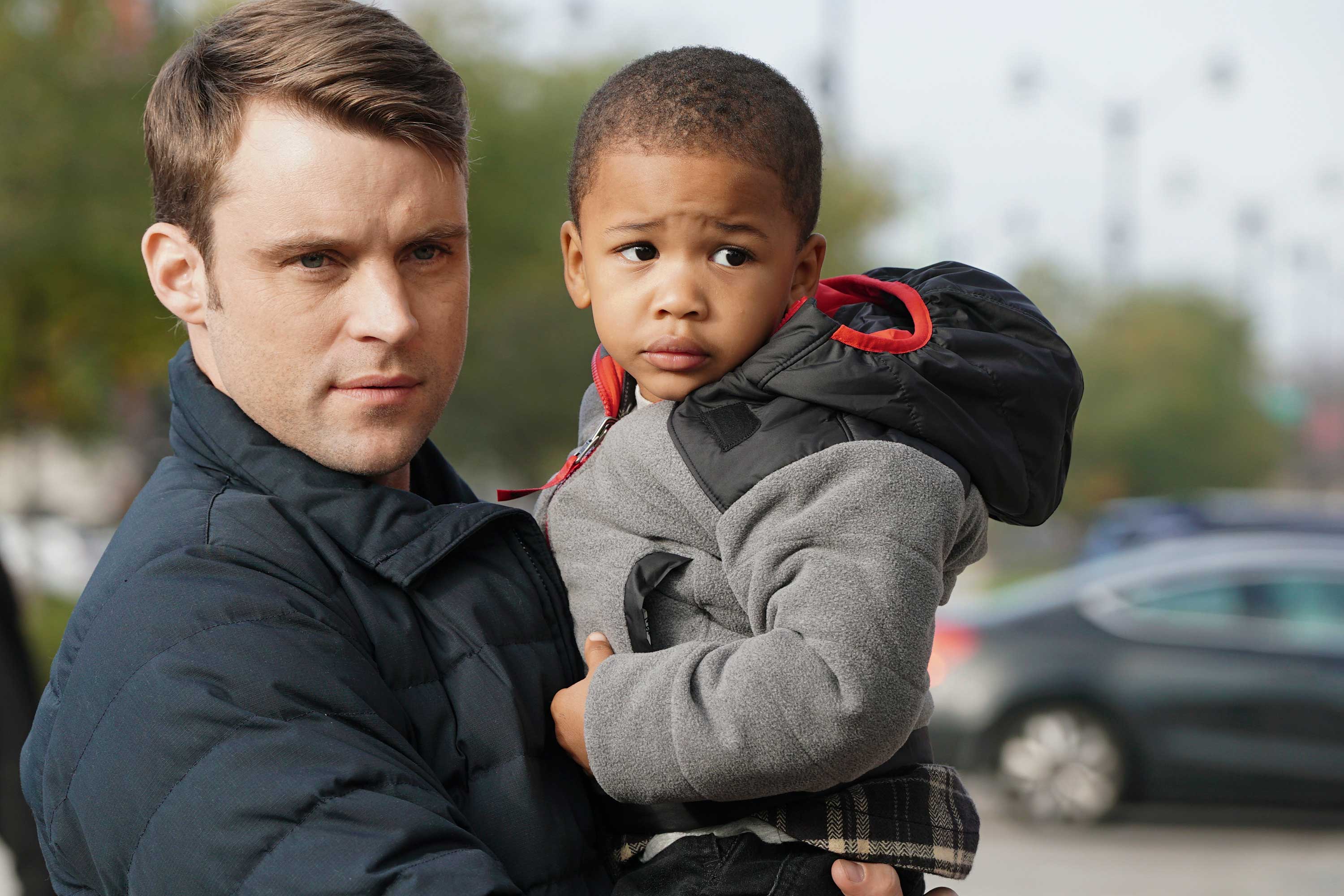 Before Matthew Casey (Jesse Spencer) began dating his current love interest, Sylvie Brett (Kara Killmer), the firefighter was part of another fan-favorite Chicago Fire pairing with the legendary Gabby Dawson (Monica Raymund). 
Casey and Dawson (labeled "Dawsey" by superfans) had their ups and downs, and one of the biggest touch points of their multi-year, friends-to-lovers relationship arc was around their legal battle to become parents a little boy named Louie Thompson (Austin and Aiden Cohen). 
Revisit Louie's time on Chicago Fire and the major mark he left on Firehouse 51. 
How did Gabby Dawson and Matthew Casey meet Louie Thompson?
Dawson and Louie met in a fire, naturally.
In Season 4, Episode 21 ("Kind of a Crazy Idea"), the team was called to help an apartment building after the top floor caught on fire. While checking the surrounding apartments for people, Dawson found a woman who had passed out from what looked like a drug overdose. 
As she knelt down, Dawson noticed a scared little boy hiding under the table. "I found the kid!" she yelled out to Christopher Herrmann (David Eigenberg), who was helping check the unit. "Come on, sweetie," she called to the boy, who was too nervous to move. 
Just then, Chief Wallace Boden (Eamonn Walker) called for everyone to exit the building because the top floor was getting ready to collapse. Dawson begged the boy to come with her — "I don't want to scare you, but if you don't come out, I'm gonna have to come after you." Just in time, he crawled to her and she was able to evacuate them both safely. 
Dawson and Louie's Immediate Bond
After she saved Louie from the fire, Dawson brought him to the ambulance for Brett to examine him, but he wouldn't let go of her. "That kid's got a serious death grip on you," Herrmann said. 
She later learned that the woman who was passed out next to Louie was his foster mother. He was admitted back into foster care, and she struggled to let him go to the home — at one point asking his case worker if she could get him the blanket he'd been requesting. 
Later in the episode, she visited his case worker to check in on him and noticed that the agency was overloaded, prompting fears that Louie might not be getting the best help. 
Did Dawson and Casey adopt Louie?
Dawson approached Casey — her significant other at the time — about fostering Louie. "The way he jumped into my arms and held on with all his might... I have a feeling this was meant to be," she said. 
Casey's initial response was that their lives were too hectic to bring in a child, so Dawson decided to pursue the path alone. "I've been thinking about it a lot, and it's the right time for me," she said, acknowledging that the timing might not be right for Casey. "I'm going to do it, on my own." 
Dawson began fighting for Louie and, in Episode 22 ("Where the Collapse Started"), she asked Chief Boden to write a letter of recommendation for her. 
Casey's Political Battle Over Louie
Despite originally having been against the idea of fostering the child, Casey changed his once he saw how much Louie meant to Dawson. At the end of Episode 22, the social worker revealed to Dawson that Casey had "pulled some strings" to get her a meeting with the foster center. "I might have a chance, and it's because of you," she told him. 
In Season 5, Episode 1 ("The Hose of the Animal"), Dawson dropped Louie off at Herrmann's house for the latter's wife to babysit. "This family thing... it looks good on you," Hermann said to Casey and Dawson, patting them both on the shoulder. 
By Episode 2 ("A Real Wake-Up Call"), Casey was already reading books to Louie and bonding with him regularly. However, later on in the episode, an alderman told Casey that it was immoral of him to "jump the line" with the foster agency. Luckily, Casey's team was able to dodge an investigation into the line-jumping claims, so the situation didn't impact his career and he and Dawson were able to keep custody of Louie. 
Why did Louie leave Chicago Fire?
Louie's biological father found him and asked Casey and Dawson for the ability to meet his son, but then never showed up for the meeting. In Season 5, Episode 10 ("The People We Meet"), he came to Firehouse 51 and told the couple that he was being deployed, so he planned to sign away his parental rights. "You two are good for him," he said. 
Dawson decided that Louie should nonetheless get to meet his father and arranged for a dinner together, during which the man had a change of heart. He went back to the firehouse the next day and told Dawson and Casey that he was prepared to fight for legal custody of Louie. 
When they showed up to the courtroom, Louie's entire extended family was there to showcase how much love he would be surrounded by if he went home with his father. Seeing this, Dawson decided to drop the legal battle and let Louie go. 
"I love you, I always will. I will always be here for you, for the rest of your life," Dawson told Louie in a tearful goodbye.