NBC Insider Exclusive
Create a free profile to get unlimited access to exclusive show news, updates, and more!
Sign Up For Free to View
All About Marcus, the New Character from the This Is Us Penultimate Episode
Dr. Marcus Brooks has a special connection to the Pearsons.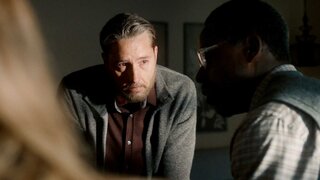 This Is Us Season 6, Episode 17 has been dreaded by fans for years. Titled "The Train," the episode featured the death of the beloved Rebecca Pearson (Mandy Moore). While the rest of the Pearsons said their goodbyes and grieved, viewers saw Rebecca take a train ride to the afterlife.
At the same time, we also learned the background story of a new character: Marcus Brooks (Luke Forbes). But how does he tie into the show? We explain all, below. 
Who is Marcus Brooks?
We first see a young Marcus in the episode's opening scene when he and his family are in the car. Marcus is in the backseat between his sister and brother, and before we know it, the family's in a car accident.
In the present day, we meet an adult Marcus, walking with a cane and working in a lab. He's frustrated that he's unable to find a cure for cancer. Literally. And worst of all: The funding for his research is cut.
But in a flash-forward, it's revealed that an older Marcus had a "pioneering role in the development of drugs targeting Alzheimer's," with his previous cancer research contributing to his success.
How is Marcus connected to the Pearson family?
Marcus' story may seem a bit random, especially during the incredibly emotional penultimate episode. But by the end of the hour, it all came together.
In a scene taking place the night of his family's car accident, a young Marcus is in critical condition and in surgery. His family is anxiously waiting for him at the hospital, and it's then that Marcus' father briefly leaves to get coffee. And who does he meet during this excursion? Jack, whose clothes are burned and covered in soot. Yes, Marcus' accident occurred the very same night as the infamous Pearson fire.
Jack tells Marcus' father that his house burned down, while Marcus' father tells Jack that he's just had the worst night of his life. Jack then offers encouraging words of advice (which we'll get to later), and the two men part. Of course, just moments later, Jack has a massive heart attack and dies. Meanwhile, a young Marcus pulls through and has a successful surgery at the same exact time; he had the same doctor as Jack.
In the present day, we see the Brooks siblings laughing about a family motto introduced by their father; something about lemons and lemonade. This served as an Easter egg to fans, who know that when one of Jack and Rebecca's triplets didn't make it, Dr. K (Gerald McRaney) told the young parents, "There is no lemon so sour that you can't make something resembling lemonade." This could only mean that Jack passed on that same piece of advice to Marcus' father on a night that was terrible for both families.
Why was Marcus Brooks' story included on This Is Us?
In an interview with People, show creator Dan Fogelman explained that he always intended to introduce another family whose lives paralleled the Pearsons.
"I always thought that this second to last episode, in a way that hopefully surprises, would tell the story of another person, potentially a child, who had survived in that same moment that Jack had been lost," Fogelman explained. "It's very much at the center of the show."
He continued, "So, on the very night that the beloved patriarch of the family died, [Jack] passed on advice that translated to a whole other family he'd barely know, for the family of a child who was saved that night. It felt important to us to have that story inside this very episode."
As fans saw, Jack unknowingly offered kind words to the family of a man who would one day help cure Alzheimer's — the disease Rebecca dies of years later. And if there's one thing we've learned across the past six seasons, it's that nothing is ever a coincidence on This Is Us.