NBC Insider Exclusive
Create a free profile to get unlimited access to exclusive show news, updates, and more!
Sign Up For Free to View
Jimmy Nicholas' Post-Chicago Fire Life Is Ripped, Sweaty and Shirtless: See Pics
Jimmy Nicholas tackled a major workout competition after saying good-bye to Evan Hawkins on Chicago Fire.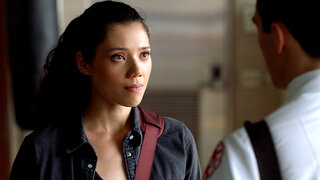 Jimmy Nicholas — also known as Evan Hawkins on Chicago Fire — sure loves to get his jump on!
Jimmy Nicholas' Shirtless Photos
On June 14, the Chicago Fire star took to his official Instagram page to share a series of snapshots chronicling his recent adventure at the Hyrox World Championships, a super intense racing competition.
The pictures Nicholas posted showed him doing some rope-pulling and weight-lifting exercises, and amazingly, he ended up finishing in second place overall. See the post here. 
Here's what Nicholas had to say about the event in his caption:
"Wow, what a wild few weeks of racing.

Had the pleasure of competing at Hyrox World Championships in Manchester, UK and was overjoyed to finish 1 minute under my goal time at 1:13:51

Then this past weekend, @team_laverty and I raced doubles in nyc, finishing second overall….losing first place by 1 second. Did losing by 1 second keep me up that night? Yes. But to take silver and punch our ticket to the 2023/2024 World Championships in the first race of the season was pretty damn cool.

Huge shoutout to my @tonehouse family for the constant support, and putting up with my shouting and weighted vest shenanigans in class. (Also big love to my @barrys and @soulcycle fam )

Shoutout to @g_sclaf301 and @weissadamj who we didn't know before racing (aside from me losing to Gerard at solos last year), but over the hour we were backnforth and racing you guys brought out the best in Conor and I. Let's run it back again.

Huge shoutout to all of you on here, who have been sending love during/for races.

Huge shoutout to @gardenofflavor cold pressed energy for sponsoring my crazy life (PS I'm out, please send more).

Finally, big shoutout to Conor. I remember the first time I took tone house with you and thinking 'that guy is an animal.' Love racing with you brother, and we'll go get a gold here soon, to go along with this silver."
Where is Jimmy Nicholas from Chicago Fire Now?
Nicholas received a BFA in drama from the prestigious Carnegie Mellon University in 2014, and went on to land a role on The Book of Mormon on Broadway in 2017.
2023 has been an eventful year for Nicholas, as he has also starred in a Season 4 episode of FBI: Most Wanted. 
As for current endeavors after his Chicago Fire exit, he hosts a podcast titled Everything But the Kitchen Sink, where he mainly discusses movies and sports. 
In a recent interview with NBC Insider, he opened up about how playing Hawkins has impacted him as a person.
"I hope to be as good as Hawkins. I hope to be as good of a guy as someone who follows in his dad's footsteps, who wants to save lives, who cares. I don't think there's enough people in this world sometimes who truly care. We need more of that, and that definitely makes me wanna care every day. I'll remember him for demanding of myself that I care as much as he cares," he said.