NBC Insider Exclusive
Create a free profile to get unlimited access to exclusive show news, updates, and more!
Sign Up For Free to View
The History of Notre Dame vs. Ohio State - When's The Last Time The Irish Beat the Buckeyes?
It's been a long century - but is Notre Dame ready to knock off the Buckeyes?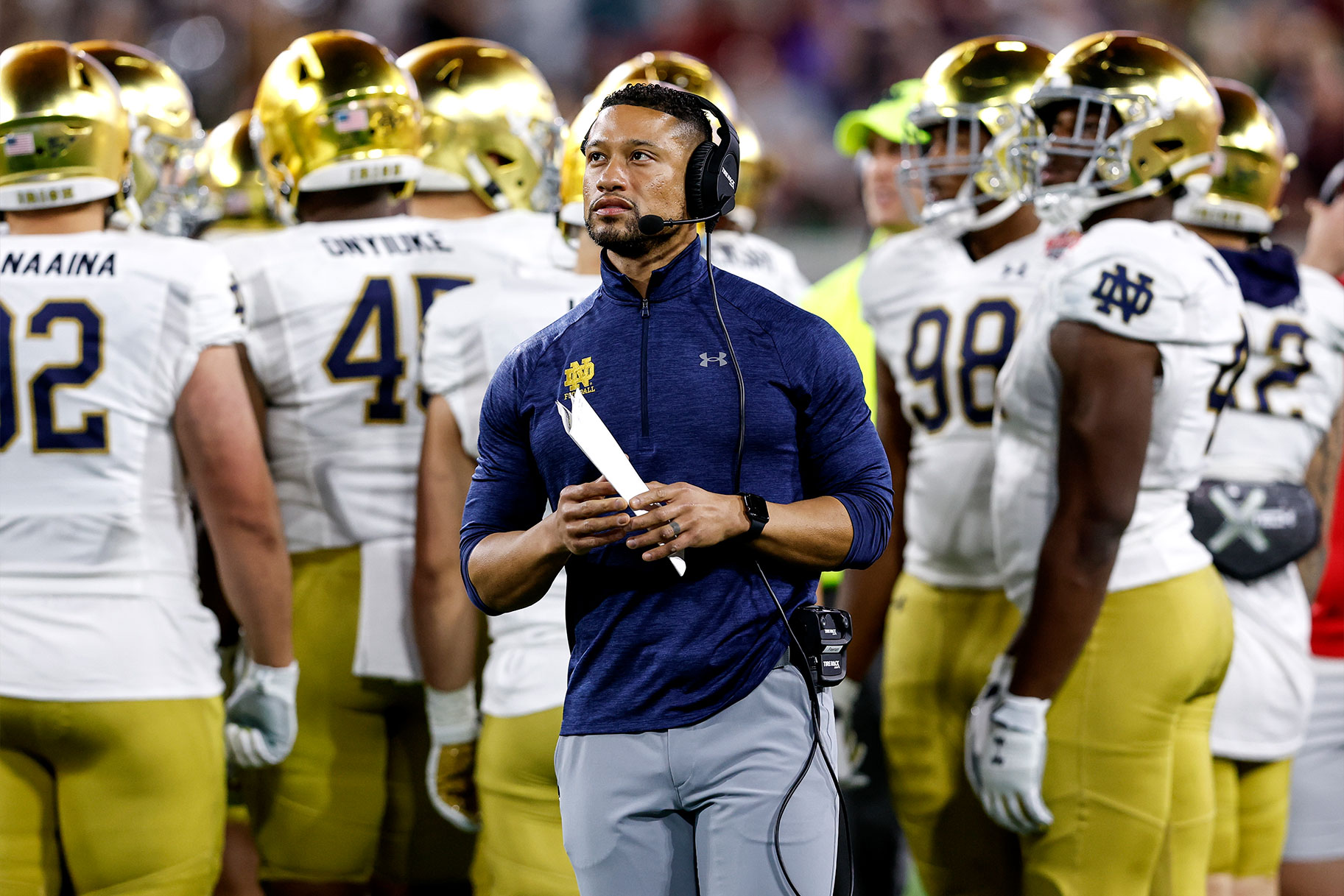 This Saturday, September 23 at 7:30 p.m. ET on NBC and Peacock, No. 9 Notre Dame is taking on No. 6 Ohio State in one of the biggest games in the 2023 college football regular season, but can the Fighting Irish break through and beat a team they haven't vanquished in almost a century?
Despite being two of the biggest programs in college football, Notre Dame and Ohio State have only ever faced off on the gridiron a mere seven times over the past 100 years.
RELATED: Which football teams are in the Big Ten?
The two teams last played in 2022, with Ohio State gutting out a 21-10 win. Before that, the two met in 2015 in the Fiesta Bowl, with Ohio State winning handily with a 44-28 margin. Going back another decade, the two teams played in another Fiesta Bowl, with Ohio State winning by two touchdowns 34-20. The two teams also played back in 1996 with Ohio State winning 29-16, and Ohio State also won the year prior in 1995 by a score of 45-26.
When is the last time Notre Dame beat Ohio State?
You have to go all the way back to 1936 to find the last time Notre Dame defeated Ohio State in a football game. According to Sports Illustrated, the game was billed as the "Game of the Century" at the time, with Notre Dame knocking off an undefeated Ohio State squad in front of a record-setting crowd at Ohio State. Notre Dame was down 13-0 at the half, but rallied to finish with an 18-13 victory. It would be the last time Notre Dame beat the Buckeyes. Notre Dame also won its first-ever matchup with Ohio State in 1935 in a close final score of 18-13.
Can Notre Dame beat Ohio State this year?
If Notre Dame ever had a good chance to snap its losing streak to the Buckeyes, this could be the year. Notre Dame's 2023 squad is led by one of the best quarterbacks in the country, with Wake Forest transfer Sam Hartman on such a hot start he's being tabbed an early frontrunner for the Heisman trophy this year. Beating Ohio State for the first time in nearly a century? That'd certainly help his case.
As for Ohio State, the perennial Big Ten power is replacing a lot of key pieces this year, and its only game against a Power 5 opponent ended with a sluggish 23-3 win against a rebuilding Indiana team, though Ohio State most recently blew out Western Kentucky 63-10. Regardless, facing a Hartman-led Notre Dame team will easily be the Buckeyes' biggest test to date.
When Does Notre Dame Play Ohio State in 2023? (Week 4, Sept. 23, 2023)
The Notre Dame Fighting Irish are at home this week to play Big 10 powerhouse Ohio State on Saturday, September 23 at 7:30 p.m. ET. The game will air on NBC in primetime and also stream exclusively on Peacock. Both teams look to be playoff contenders, and this certainly has the makings to be the game of the week across all of college football.
How to Watch Ohio State vs. Notre Dame on NBC and Peacock 
Games airing on NBC will also be streamed on the Peacock streaming service, which is available for 5.99 per month for a Premium plan, which offers new and hit original shows and films, live sports, current NBC and Bravo shows, plus more than 50 always-on channels. A Premium Plus plan is also available for $11.99 per month, which features no ads (with limited exceptions), plus live access to your local NBC channel and the feature to download and watch select titles offline.