NBC Insider Exclusive
Create a free profile to get unlimited access to exclusive show news, updates, and more!
Sign Up For Free to View
What Happened to Selma Diamond on Night Court?
The hilarious actress helped make Night Court the legendary show that it is today.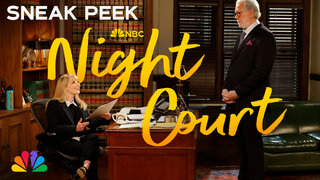 The original Night Court was filled with some unforgettable characters, and the sassy, tough bailiff Selma Hacker (played by Selma Diamond) was no exception.
Known for her raspy voice and witty comebacks, Selma was not one to be easily fazed by the hardships of life. She had some real world experience under her belt and almost always had a cigarette in her hand. According to The Montreal Gazette, the character was written based on Diamond's real-life personality.
Diamond played this iconic role for the first two seasons of Night Court from 1984-1985 and earned an Emmy nomination for ''Outstanding Supporting Actress in a Comedy Series'' for her top-notch work on the show. Keep reading to know more about her legendary career.
What else has Selma Diamond been in?
Before her Night Court fame, Diamond was a television and radio writer. She received her first Emmy nomination in 1956 for ''Best Comedy Writing'' on the NBC show Caesar's Hour. She also wrote for The Milton Berle Show from 1952-1954, and according to The Montreal Gazette, she was also the main source of inspiration for the character Sally Rogers on The Dick Van Dyke Show. Her theater credits include Bye Bye Birdie and Barefoot in the Park.
What happened to Selma Diamond after Night Court?
Unfortunately, after filming Season 2 of Night Court, Diamond passed away of lung cancer in 1985. She was 64 years old.
Night Court decided to address Selma's death directly, with the first episode of Season 3 showing the search for replacement bailiffs and having her friend and fellow bailiff Bull mourn for the loss. Her bailiff role was replaced by Florence Kleiner (played by Florence Halop) in Season 3, who had a similarly feisty personality. However, Halop also died of cancer in 1986, according to The New York Times. This left Marsha Warfield to play the no-nonsense bailiff Roz Russell from Season 4 until the show ended in Season 9.
In the new Night Court, the bailiff is named Donna ''Gurgs'' Gurganous, and is played by the hilarious actress Lacretta.
Watch Night Court Tuesdays at 8/7c on NBC. Episodes of the show will stream the next day on Peacock.