NBC Insider Exclusive
Create a free profile to get unlimited access to exclusive show news, updates, and more!
Sign Up For Free to View
Gwen Stefani's Hair Was Jet-Black on the Latest Voice Live Show
An edgy change to her signature look!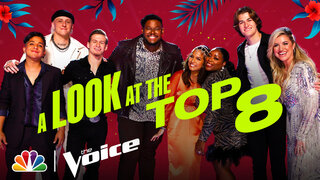 Gwen Stefani stunned us all with an edgy new look on The Voice Live Shows on December 6. 
The "Hollaback Girl" singer shook things up to the max with her hair. Instead of her signature platinum blonde locks, Stefani rocked a pin-straight, shiny, jet-black wig with blunt bangs above her eyebrows. The unique wig was styled so that it had shorter pieces framing her face. 
Style-wise, she rocked a checkered mint green, black, and white mini-dress with floral decorations at the lapel and some fishnets. See Stefani's look for yourself, below. 
The pop icon has been having a blast coaching The Voice this year alongside her husband, Blake Shelton, who announced next season of the show (Season 23) will be his last. 
"I think that Blake–I don't know, I think he just wants more time, you know what I mean? I don't know that people realize, if he's doing two seasons a year, right? In between that, he's touring. So he actually has two teams at the same time at a certain point, so they overlap. So it's a lot of brain power, it's a lot of time away from the family, those kinds of things. I think he just got to a point where he just wants time in his ranch, like time to just do the other things that he loves to do," Stefani told Extra about Shelton's exit. 
She continued, "And I'm totally speaking for you, Blake, sorry! I'm married to you so I can say whatever I want! But it's just, I'm excited for him because, you know, we have lives outside of work, and it's a really good life, it's really fun, and we have so much fun! We have Oklahoma, which is something I never knew I needed and wanted, you know? We planted a garden, we do all kinds of fun stuff. So we're looking forward to doing some of that family stuff together. It's 'gonna be great." 
Watch The Voice on NBC Mondays and Tuesdays at 8/7c and next day on Peacock.