NBC Insider Exclusive
Create a free profile to get unlimited access to exclusive show news, updates, and more!
Sign Up For Free to View
Wendy Moten Opens Up About Competing on The Voice with 2 Broken Arms
"I became a meme," she told a Nashville crowd with a self-deprecating chuckle.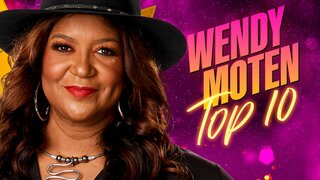 When Wendy Moten is knocked down, she gets right back up again. 
During The Voice Season 21, the musical powerhouse took a tumble that resulted in a broken elbow in one arm and some wrist fractures in the other. However, she persevered through these injuries and ended up finishing in second place that season. 
During a talk in Nashville, Tennessee on June 5, Moten explained why she decided to keep competing on The Voice despite the difficult obstacles in her way. 
Moten said a media executive at Country Music Television urged her to stay on the show. "I'm like, 'They don't even know how injured I really am.' I can't use my hands. I can't use my arms," Moten said.
But the determined Moten wasn't going to let anything stop her from reaching her dreams. "They obviously see something in me that they think I should stay in the game," she said. "So I told the produces of The Voice, 'Hey, Im'ma stay in the game.' I had two broken arms. I became a meme; you can check it out. And I did the last three weeks with two broken arms!" 
The choice to stick things out ended up being a wise one on Moten's part. "[I] sang better than I ever had in my whole life. And it was a good testimony for myself that, hey, if I can do it in front of 8 million people a week with two broken arms, I can make all my dreams come true," she concluded with confidence. 
"The story of how I didn't give up on #TheVoice with two broken arms. Thank you @cmt and @citywinerynsh for having me last night to celebrate @lesliefram1 #Dontgiveup #thevoice #storytime #fyp," Moten captioned the clip of the chat that she posted to her official Instagram page. 
Moten also gave some more details about her situation in a 2022 interview with People. "I've never been broken before," she told the outlet. "And so, it's a new experience, but I remind myself that there are people dealing with far more serious things. I'll be OK. I'll just keep working at it."
Since then, Moten has undergone successful surgery and extensive physical therapy treatment for her injuries. Her live performances in various venues across the country have remained as strong as ever!