NBC Insider Exclusive
Create a free profile to get unlimited access to exclusive show news, updates, and more!
Sign Up For Free to View
Gwen Stefani Met Her Idol Julie Andrews, and Her Reaction Is So Relatable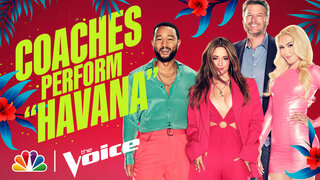 Sometimes it's hard to believe that with their highly successful music careers under their belts that The Voice Coaches could possibly get starstruck. 
But Season 22 Voice Coach Gwen Stefani is here to let fans know that even those with decades-long music careers can be left dazzled by their childhood idols. Especially when that idol is none other than the outrageously talented Julie Andrews.
"One of my favorite childhood idols is Julie Andrews," Stefani revealed in a new NBC video. "I was 7 years old when I went to see The Sound of Music, and all these years later, they invited me to come present her lifetime achievement award to her." 
Not everyone gets the chance to meet their idol, but being able to present them an award? That's next-level amazing. And who can blame Stefani for her adoration of Andrews? The powerhouse actress is a timeless Hollywood treasure, starring in numerous classics like The Sound of Music, Mary Poppins, and The Princess Diaries. Andrews is a Hollywood OG, simply put. 
The Voice Coach continued by recounting the magic moment when she finally met Andrews. "I looked straight across the room and told my story right to her eyes, and it was just one of those surreal pinch-me moments." But just like countless fans that freeze when facing their favorite celebrities, Stefani forgot to capture the moment. Oops. "I didn't actually get a photo, dangit!" Stefani exclaimed before quickly adding, "I love you, Julie Andrews, forever!"
Get ready for countless starstruck moments like this when a new lineup of Artists returns for the next season of The Voice. The Voice Season 22 premieres Monday, September 19 at 8/7c on NBC and the next day on Peacock.