NBC Insider Exclusive
Create a free profile to get unlimited access to exclusive show news, updates, and more!
Sign Up For Free to View
Why Rowan Grace's 'Not Normal' Voice Got Her 3 Chair Turns
Her cover of Olivia Rodrigo's "Traitor" floored the Coaches.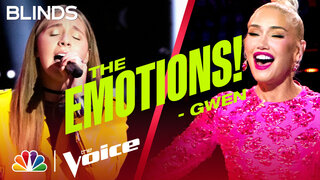 For her Blind Audition on The Voice Season 22, Episode 7, 16-year-old Rowan Grace tried her hand at Olivia Rodrigo's "Traitor," and she earned three chair turns as a result. The young singer's voice absolutely floored the Coaches, and John Legend, Gwen Stefani, and Camila Cabello wanted her on their teams. 
"It's really hard to do what you just did," Stefani told Grace. "And at 16 years old to channel that emotion. I know you have a lot of hormones and emotion and those things, but still to be able to control it and to be dynamic and tender and then get angry. You have to live to be able to do that. And I turn around and find out you haven't even lived your life yet, and you're that good."
Meanwhile, Legend added, "So much of what we're looking for here is more than just being a good singer, and I felt like you really connected with the song, which made it easier for you to connect with the audience. The fact that you're 16 and doing that; that's not normal!"
"I feel like I could really coach you through the nerves and also finding out what your specific lane is,"  Cabello said.  "I would love for you to pick me as your Coach. I'm inspired by you." 
Blake Shelton admitted he was a "moron" for not turning around. "But I am very excited for you," he said. "So many times we'll see somebody that's 15, 16 try out for this show and they're just nowhere near as far along as you are." 
With all that praise, Grace had a tough decision to make, but she ultimately went Team Gwen. To find out what happens next, watch The Voice on NBC Mondays and Tuesdays at 8/7c and next day on Peacock.