NBC Insider Exclusive
Create a free profile to get unlimited access to exclusive show news, updates, and more!
Sign Up For Free to View
Why Blake Shelton Said Gwen Was 'Out of Bounds' After Kique's Blind Audition
We have another couple's duel on our hands!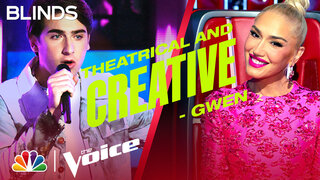 Miami native Kique sang "Beautiful Girls" by Sean Kingston for his Blind Audition on The Voice, which aired October 3. By the end, both Gwen Stefani and Blake Shelton turned their chairs. 
But Stefani was so stoked about Kique, she did more than just spin her chair. She stood up and started walking around the stage, at one point getting near Shelton's chair and playfully saying, "We're 'gonna fight!" 
"Bring it on," Shelton responded before cheekily saying Stefani was "out of bounds" by leaving her chair and walking over to his. "You're already disqualified," the country star joked, making the audience laugh. 
Related: Why Gwen Stefani Thinks Camila Telling Blake to 'Shut Up' Improved Their Dynamic
Of course, that's not the case, and yet another couple's duel between Stefani and Shelton started for 18-year-old Kique. 
"I was blown away with your voice and just how accurate you are with your pitch," Shelton said to Kique. "...I just think you're a great singer. I've been a Coach on this show for literally 50 years now...I'm due for a win!" 
Camila Cabello said she had "regret" not turning around for Kique but noted he and Stefani would make a great team. Stefani, meanwhile, was thankful for the boost and told Kique, "Your kind of voice is one of my favorite kind of voices. It's so theatrical and creative, so I would love to work with you." 
Kique ended up going Team Gwen. To see how the singer performs this season, watch The Voice on NBC Mondays and Tuesdays at 8/7c and the next day on Peacock.