NBC Insider Exclusive
Create a free profile to get unlimited access to exclusive show news, updates, and more!
Sign Up For Free to View
See Why Austin Montgomery's Elvis-Like Voice Got Him 3 Chair Turns
His voice sounds beyond his years!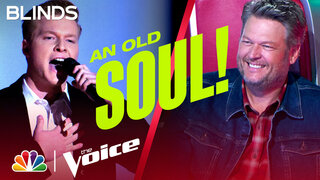 On The Voice Season 22, Episode 6, Austin Montgomery did a Blind Audition in which his voice sounded eerily similar to Elvis. And It earned him three chair turns from Gwen Stefani, Blake Shelton, and Camila Cabello. 
The 19-year-old singer performed Hank Williams' "I Can't Help It," and the Coaches⁠ were amazed that such a young performer could sound so mature⁠—and have such mature taste. 
"What does a 19-year-old listen to to inform this style?" John Legend asked Montgomery, to which he said, "A lot of Jerry E. Lewis, Hank Williams, Merle Haggard. [Artists] everybody's grandpa would know." 
That also includes Elvis, who the Coaches thought Montgomery sounded like during his Blind Audition and said as much. "Doesn't he sound like Elvis a little?" Cabello asked Shelton before turning her chair. 
"The power of your baritone and that vibrato is really impressive," Legend continued. "I'm excited for you." 
Shelton told Montgomery, "It's a gift to have somebody like you on this show, I'd be honored to be your Coach. We can actually do this right. Let's do it, man." 
But of course, Cabello wasn't backing down from this duel. "What does 'right?' even mean?" she said. "Would you rather have 'right' or 'fun,' 'interesting,' 'exciting,' and 'unpredictable?' I was really excited when I heard your voice. I was like, 'That's a voice I want to hear on the radio.'" 
Ultimately, Montgomery ended up going Team Blake, but will their match take them to the end? To find out, watch The Voice on NBC Mondays and Tuesdays at 8/7c and next day on Peacock.