NBC Insider Exclusive
Create a free profile to get unlimited access to exclusive show news, updates, and more!
Sign Up For Free to View
Inside Ava Lynn Thuresson's Blind Audition That Got John and Camila Dueling
John Legend typically keeps the peace on The Voice—but this Audition even got him throwing some (playful) shade at a Coach to win Thuresson over. Did it work?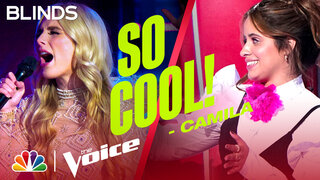 Eighteen-year-old Ava Lynn Thuresson went a bit left of center for her The Voice Blind Audition, which aired on September 26th. The young singer put a soulful spin on Britney Spears' "...Baby One More Time," and it got both John Legend and Camila Cabello excited. So excited, in fact, that the two Coaches engaged in some (playful) dueling to get Thuresson on their teams. 
"Doing covers a different way is what I've been talking about all day long," Cabello told Thuresson. "The actual song sounds really poppy and happy, but you made it angsty and grunge-y. I thought that was so cool. Everything about you is right up my alley. I feel like John would even tell you that himself." 
Related: Here's How Simon Cowell Finding Camila Cabello Crying Led to Her Big Break
Well, reader, Legend did not say this. Instead, he pointed out, "It's odd because I turned for her so much earlier than you [Camila] did. I don't understand what took you so long to be convinced because I heard that voice, I heard that cool interpretation, I heard that power, that shred in her voice, I heard the rockstar in her voice. I was convinced already."
"I heard the rockstar [too]!" Cabello said in defense. 
On the sidelines, Gwen Stefani admitted she was having "regret" not turning around for Thuresson. "You're really talented," Stefani said, to which Cabello piped in, "You think she should choose me, right?"
"I'm not gonna say anything because I need to be very neutral right now," Stefani said, but the battle for Thuresson raged on. As Legend made his final plea, Blake Shelton urged Cabello not to let the "All of Me" singer get the last word in. "See what he's doing? See what he's doing?" Shelton said, playfully egging Cabello on. 
"Do you really want someone who's just learning [how to be a Coach]?" Legend said about Cabello. "She just graduated high school, I think!" 
But Cabello didn't let the jesting deter her. She got the last word in. "You know what, Ava Lynn?" the "Havana" singer said. "Do you want somebody who has actually been on a singing competition before and can show you the ropes? Because guess what? I've done this, baby!"
That did the trick. Thuresson picked Team Camila, bringing one of the closest Voice Coach battles to a close. 
To see how Thuresson does this season, watch The Voice on NBC Mondays and Tuesdays at 8/7c and next day on Peacock.