NBC Insider Exclusive
Create a free profile to get unlimited access to exclusive show news, updates, and more!
Sign Up For Free to View
How 17-Year-Old Parijita Bastola Shocked the Coaches During the Knockouts
"It's like you've been doing this for 20 years," Blake Shelton told the teen.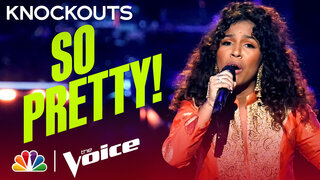 Team Legend is officially one step closer to being finalized before The Voice Season 22's Live Shows.
The October 31st episode gave way to the first round of Knockouts, and the "All of Me" crooner's team more-than impressed. Parijita Bastola, Valarie Harding, and Peyton Aldridge each chose a song that was close to their heart and showed off their vocal chops. But in the end, it was Bastola who stole the show.
The Severna Park, MD teen proved she had talent beyond her years when she sang Etta James' 1968 soul classic, "I'd Rather Go Blind." Bastola explained that an album of James' greatest hits was her first record. She was also inspired by the time she spent in her parents' restaurant growing up.
"Everything that I've learned from my parents, that work ethic, is something I'm gonna be implementing into my performance for the Knockouts," she said.
Before Legend officially dubbed Bastola the winner, each Coach couldn't help but marvel at the young singer's age.
"I'm so glad I get to say to the crowd, one of those three people is 17 years old," Blake Shelton said. "It's like you've been doing this for 20 years. You don't just tell the story vocally, but you're telling the story with your body language, and I'm just blown away by you."
Gwen Stefani added, "I can't understand that you're so in your body, in your mind, your heart, your voice. Everything about you is just really impressive."
In the end, it's safe to say that Legend was completely confident in his choice.
"It just felt like you owned the lyrics, you owned your body and how you conveyed the lyrics. You're 17, so no one knows how you're able to do this," he said. "The combination of her stage presence, her beautiful tone, she was the one I felt most confident going into the Lives with."
Watch The Voice on NBC Mondays and Tuesdays at 8/7c and the next day on Peacock.