NBC Insider Exclusive
Create a free profile to get unlimited access to exclusive show news, updates, and more!
Sign Up For Free to View
Will We Get Answers on the Church Bombing on This Season of The Irrational? The Creator Says...
"It's not necessarily going to be a murder every week," The Irrational's creator Arika Lisanne Mittman also said of how we'll see Alec Mercer use his skillset on the show.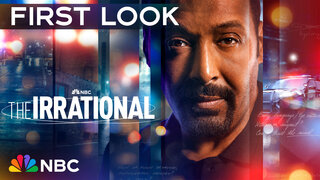 NBC's The Irrational will keep going down the road of the harrowing church bombing as the characters reckon with its aftermath and try to solve it, according to showrunner and executive producer Arika Lisanne Mittman. If you're craving to know what really happened, she promises there will be some answers to your questions if you keep watching. 
Mittman broke down how the traumatic event influenced the first season and the relationships on the show in a chat with NBC Insider.  
What Happened to Alec Mercer in The Irrational's Church Bombing? 
Alec Mercer (Jesse L. Martin), a college professor, was badly burned in a church bombing several years before the show's timeline kicked off. He met his now ex-wife, Marisa Clark (Maahra Hill), while she worked the case, and he recovered in the hospital. 
Wes Banning was suspected to be a lone bomber and convicted, but Mercer starts to wonder if someone else could be connected to the case. Although he uses behavior science to solve mysteries, his biggest unresolved case remains his own: He can't recollect his own memories of the bombing clearly.
RELATED: Jesse L. Martin's Character on The Irrational is Haunted by Tragic Crime—Is it Based on Real Case? 
"That backstory's going to play through the season," Mittman told NBC Insider. "It's tricky waters for Alec and Marisa to navigate because they're trying to — on the one hand, you know Marisa's like we're divorced. We need to move on with our separate lives. At the same time, they're being brought back to working together." 
Viewers can look forward to some satisfying answers at the end of the first season to "at least some — if not all of the questions — about that case," according to Mittman. 
Although Clark is now an FBI agent and Mercer sometimes helps on cases, he isn't specifically tied to an agency like the FBI or police department. 
"We wanted Alec to be somebody who has the freedom to go anywhere and do anything, to do things the police can't," Mittman said. "In the pilot, the mayor asks for his help and he's helping the mayor and the police department and other times, he might be helping foreign governments."
Mercer could even fly to another city to "help an old friend" and even work puzzles or mysteries that aren't necessarily murder, Mittman said. 
Why are Alec Mercer and Marisa Clark divorced on The Irrational?
If you've noticed the chemistry between Mercer and Clark and wondered why they are no longer together on the show, you're not alone. Mittman points out their onscreen love for each other is by design.  
"These are two people who really care about each other, but who've kind of let their work get the better of them in that both are so dedicated to their work they didn't dedicate enough energy to their marriage."
RELATED: Jesse L. Martin Teases the Unfinished Love Story at the Heart of The Irrational   
Even though Mercer "seems to have these kind of superpowers" when it comes to tackling cases, Mittman wanted to make sure audiences could connect with him.  
"One of the ways to ground somebody is to make them relatable and to be going through something that any of us could be going through," Mittman said of Mercer's divorce. 
Seeing a former couple deal with the "ramifications of divorce" while still liking each other was also a dynamic Mittman says she wanted to explore. Adding, "It not a nasty divorce. They're not, you know, fighting over things." 
Plus, it poses a question for both audiences and the characters, according to Mittman.  
"The question's going to be, will these two find their way back to each other or are they going to continue in the same kind of patterns that they've always been in?" Mittman said. "They're going to have to figure out, like, how do we work together? How do we continue to work together as a team without being a couple anymore, you know? And that's especially hard with this case that they're emotionally connected to." 
Watch The Irrational Mondays at 10/9c on NBC and the next day on Peacock.