NBC Insider Exclusive
Create a free profile to get unlimited access to exclusive show news, updates, and more!
Sign Up For Free to View
Everything You Need to Know About Super Nintendo World at Universal Studios Hollywood
Here are the answers to your frequently asked questions about the new Mario-themed land at Universal Studios Hollywood.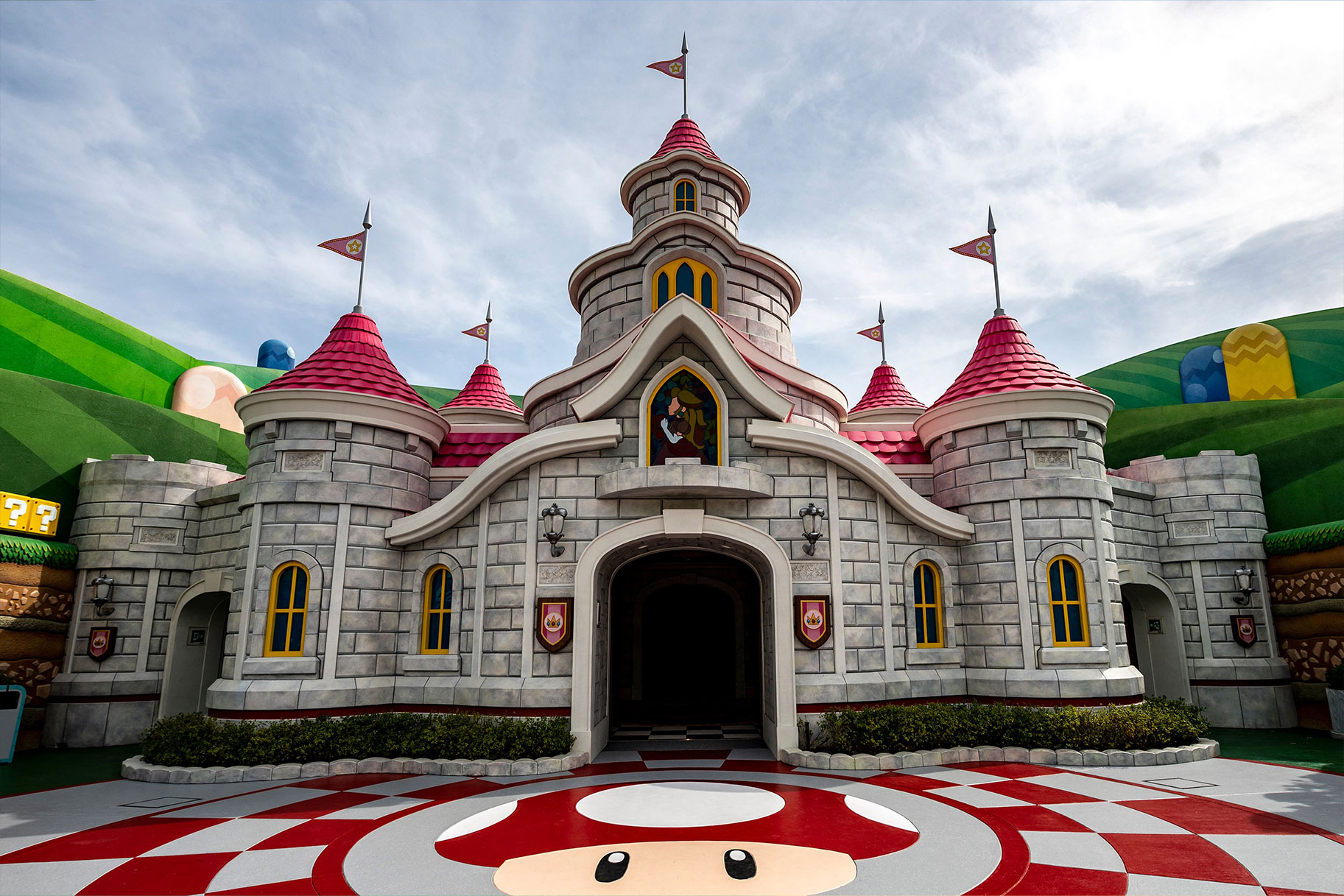 It's been a big year for Super Mario — one might even say 2023 has been powered up with a Super Mushroom. The Super Mario Bros. Movie, from Universal and Illumination, opens in theaters on April 5, and fans can actually step inside the Mushroom Kingdom (or at least the next best thing) by visiting Super Nintendo World, which opened at Universal Studios Hollywood earlier this year. 
Super Nintendo World, a Mario-themed area of the Los Angeles-based theme park, is actually the second of its kind. The first Super Nintendo World opened at Universal Studios Japan in March 2021. (Two more, at Universal Orlando Resort and Universal Studios Singapore, are under construction.)
Before you say "let's a-go," here's everything you need to know about Super Nintendo World.
How Do You Get to Super Nintendo World?
Super Nintendo World is a themed land within Universal Studios Hollywood, located in Los Angeles, California. It's a little smaller than its Tokyo counterpart, but you'll hardly notice once you walk through a giant green pipe (located between the Jurassic World area and Transformers: The Ride) and find yourself in the middle of a real-life Mario level.
Super Nintendo World is just one part of the Universal Studios Hollywood experience, and you can theoretically visit the land with just your normal admission ticket to the park. One-day tickets start at $109. However, a specific timed reservation is suggested, and there are ways to make your Super Nintendo World experience even better:
How Do You Get Super Nintendo World Reservations?
While you may be able to just walk into Super Nintendo World, it's recommended that you make a virtual line reservation after you've bought your tickets and have arrived at the park. (More details about virtual lines can be found here.) This assures that you'll be able to enter the land at a specific time, as it's possible the space might be too crowded for unscheduled walk-ins. Guests with Universal Express and VIP privileges will have reservation-free entry into Super Nintendo World once per day (after 3 p.m. for Platinum Pass members).
You can also, for an additional fee, purchase early access tickets that will let you access Super Nintendo World an hour prior to Universal Studios Hollywood's opening!
What Time Does Super Nintendo World Open?
Super Nintendo World opened its doors to the public in February of this year following a soft opening the previous month. Now, the park is accessible during Universal Studios Hollywood's normal hours, which are 8:00 a.m. to 10:00 p.m. on Friday through Monday, and 9:00 a.m. to 9:00 p.m. on Tuesday through Thursday. (Unless, of course, you have early access tickets, in which case you can arrive one hour earlier and start punching blocks.)
How Many Rides Are in Super Nintendo World?
There is only one ride at Universal Studios Hollywood's Super Nintendo World. Mario Kart: Bowser's Challenge puts parkgoers inside of the iconic racing video game series, as they'll put on special goggles that help bring all the shell-throwing, banana-peel-dropping action to life. Working as a team alongside Mario, Luigi, and Princess Peach, riders will steer their karts through all sorts of vibrant courses in an attempt to best Team Bowser and win the Golden Cup.
(Yoshi's Adventure, a second ride present at Universal Studios Tokyo, is not part of the Hollywood version of Super Nintendo World.)
Mario Kart: Bowser's Challenge may be the only true ride at the land, but there are tons of other activities. Visitors to Super Nintendo World are encouraged to purchase a Power-Up Band from one of the vending machines near the park entrance. Though optional, this watch-like accessory (available in six styles, each themed to a different Mario character) will track how many coins the wearer collects from the ? Blocks found around the land, record badges they win from activities, and mark how well they do at the four Key Challenges inside the land. The Key Challenges, which are basically like real-life minigames, are Goomba Crazy Crank, Piranha Plant Nap Mishap, Koopa Troopa POWer Punch, and Thwomp Power Panel Panic.
There are also character meet and greets, exclusive merchandise to purchase, and food!
What Food Is There at Super Nintendo World?
Mario may get by consuming just Super Mushrooms and Power Stars, but chances are you'll need something a bit more… substantial. Toadstool Cafe, located near the back of Super Nintendo World, had you covered, with a full menu of elaborate (and delicious!) entries that fit right into the Super Mario Universe. Guests can enjoy meals like Fire Flower Spaghetti & Meatballs, Piranha Plant Caprese, and ? Block Tiramisu.