NBC Insider Exclusive
Create a free profile to get unlimited access to exclusive show news, updates, and more!
Sign Up For Free to View
Here's Everything to Know About How the New Quantum Leap Code Works
The mysteries of the new code are starting to surface.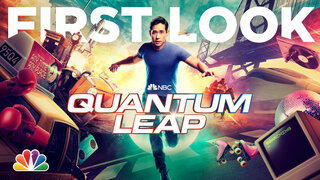 Quantum Leap Season 1, Episode 3 (titled "Somebody Up There Likes Ben") brought some heavy-hitting themes to the forefront. In the episode, Ben grapples with being forced into another leap—and this time, it's into professional boxer Danny Hill shortly before his 1977 Title Match. As Ben and Addison help Hill win the match, stopping the eventual suicide of his Coach and brother, the team back at headquarters works tirelessly to understand the new program code. Although Janice and Ben's intentions are still a mystery, the changes to the QL programming code are starting to surface. Here's what we know about the new Quantum Leap code so far.
The code will send Ben to a specific moment in space and time
After looking into the new software, the lead QL architect Ian discovered that the coding is taking Ben to a specific moment in time. Unfortunately, as long as Ben's memory is gone and his accomplice Janice refuses to cooperate with the headquarters team, it's unclear exactly where or when in time he's headed and why. 
Ben can now leap to points beyond his lifetime
Episode 3 also revealed that for the first time in Quantum Leap history, Ben was able to leap into the distant past. In the original Quantum Leap, Dr. Sam Beckett could only leap to points in time after his birth. However, Ben removed all of the safety protocols embedded in the original code so we can expect anything and everything to be possible.
Ian estimates Ben has between 10 and 20 leaps before his return
Now that it's clear Ben and Janice are trying to land somewhere specific in time, Ian discovered it could take 10-20 leaps before Ben arrives there based on the current trajectory mapped out in the new coding. 
The code uses gravity-assisted navigation to propel Ben even farther back in time 
Upon further analysis, Ian realizes that Ben is using a strategy from the old Quantum Leap project called gravity-assisted navigation. This process involves building momentum through small leaps to slingshot himself farther back into time than anyone has ever been able to travel. 
Watch Quantum Leap Mondays at 10/9c on NBC and next day on Peacock.