NBC Insider Exclusive
Create a free profile to get unlimited access to exclusive show news, updates, and more!
Sign Up For Free to View
New Trailer for Peacock Film Shooting Stars Gives Us LeBron James' Origin Story
Shooting Stars premieres on Peacock on June 2.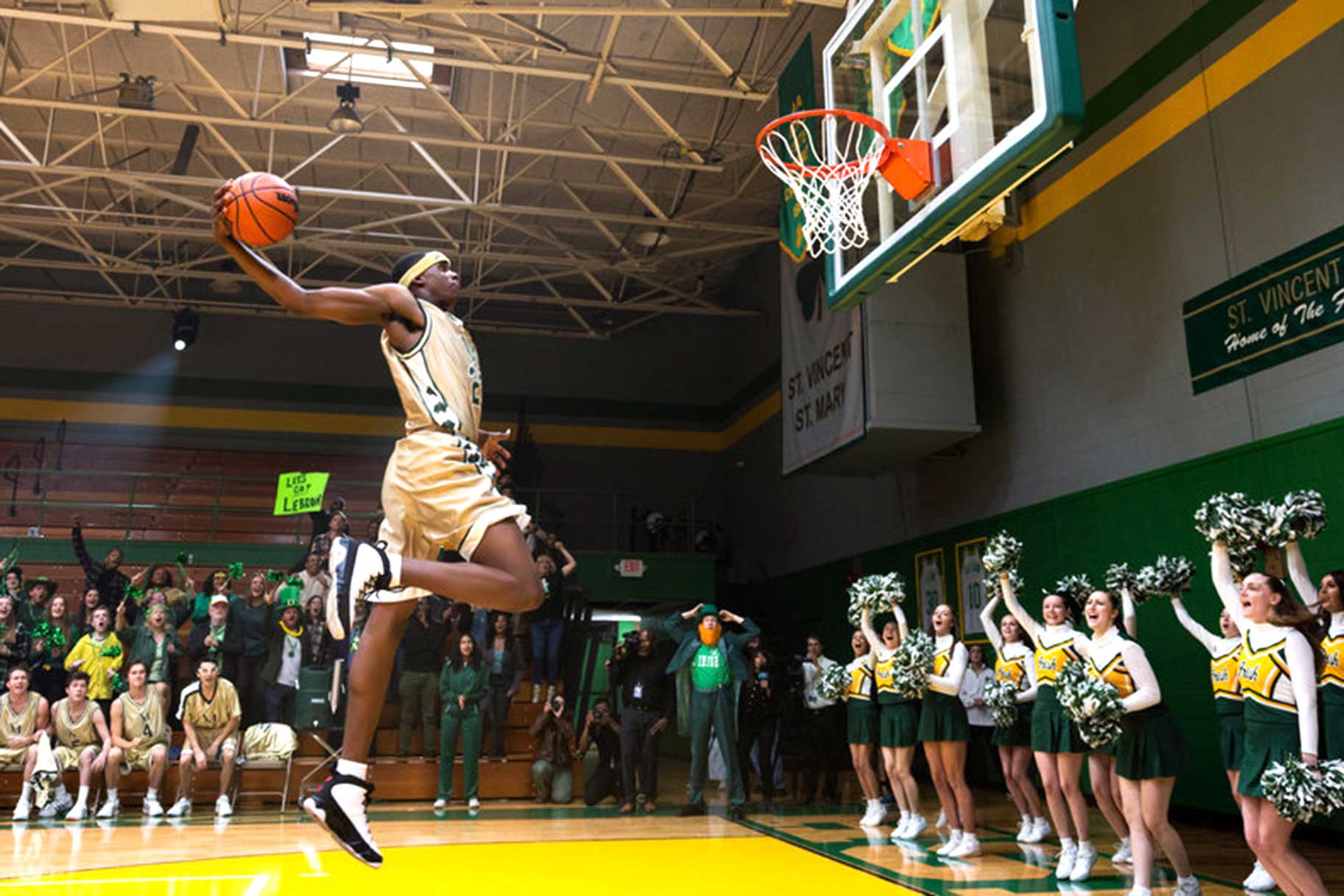 LeBron James is one of the greatest athletes of all time. Depending on who you ask, he might even be the greatest. However, he didn't become the GOAT all by himself. Shooting Stars, a new movie set to premiere on Peacock on June 2, tells the story of how James and three of his friends became the best high school basketball team in the country — setting the stage for James' eventual NBA and Olympic dominance.
The movie, an adaptation of the book of the same name written by James and the Pulitzer Prize-winning author of Friday Night Lights, Buzz Bissinger, will be a hybrid of drama and documentary styles, as revealed in the first trailer, which debuted on Monday. James and his former high school teammates — Lil Dru, Willie McGee and Sian Cotton — appear as themselves, reminiscing their scholastic athletic exploits. Actors will play the school-aged versions of the real athletes in dramatizations of their story.
Here is the official synopsis, per Peacock:
"In the 1990s, a young LeBron James (Marquis 'Mookie' Cook, in his screen debut) and his three best friends — Lil Dru (Caleb McLaughlin, Stranger Things), Willie McGee (Avery S. Wills, Jr., Swagger) and Sian Cotton (Khalil Everage, Cobra Kai) — called themselves the 'Fab Four,' after the famed Michigan Wolverines' 'Fab Five' of that era. From the moment we meet them, we realize this group of friends, under the guidance of coach Dru Joyce (Wood Harris; Creed franchise), is connected by more than basketball.
So, when the coach at the top basketball school in their district threatens to separate them by putting Lil Dru on junior varsity, the Fab Four decide to switch schools to be able to play varsity together, joining the team at a predominantly white Catholic school instead. The community takes this as an insult, but the boys' dedication to each other is more important than anything else.
With their new coach (Dermot Mulroney; August: Osage County), a disgraced former college coach seeking redemption of his own, the boys, along with former rival and new teammate Romeo Travis (newcomer Sterling 'Scoot' Henderson), will face battles not only on the court but in real life, in their quest to become national champs, and will rediscover that what matters most about the game is the people playing beside you."
Chris Robinson, an Emmy-nominated director who worked on Beats and Grown-ish, helms Shooting Stars. 
Shooting Stars premieres exclusively on Peacock on June 2.