NBC Insider Exclusive
Create a free profile to get unlimited access to exclusive show news, updates, and more!
Sign Up For Free to View
This Summer Activity Is Perfect for People Who Love NBC's The Wall — and Bowling
Your favorite game show is coming to a Lucky Strike bowling alley near you!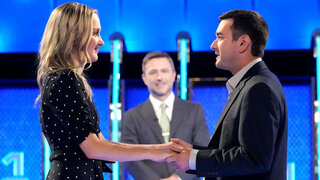 NBC's The Wall returns Monday, June 19 at 10/9c (and next day on Peacock), and there's only one way to celebrate another summer of money-winning excitement: bowling! 
That's right: The Wall is partnering with Lucky Strike Entertainment to bring a unique experience to 14 entertainment venues and centers across the country. Starting Friday, June 9 and ending Sunday, June 26 — on weekends — there will be interactive gaming experiences at 14 Lucky Strike venues inspired by The Wall. 
On these June weekends, select Lucky Strike locations will have special themed bowling games influenced by the show. A special blue-marked pin will drop down on a lane, and players will have the chance to win prizes by bowling a strike when the pin is in play.  And get this: Bowlers who score big in 10-frames get a chance to play a mini-version of The Wall to win additional prizes. To keep players energized, there will be a special Wall-themed food and drink menu, too. It's fun for the whole family that you won't want to miss — especially if you love bowling and/or The Wall!
Interested? Of course you are! See the list of Lucky Strike locations, below, that will have this experience on weekends from June 9-26: 
Boston, MA

Sommerville, MA

Chicago, IL (Downtown Chicago and Chicago at Wrigleyville)  

Honolulu, HI 

Philadelphia, PA

Orange, CA

Los Angeles, CA (L.A. Live) 

Hollywood, CA 

San Francisco, CA 

West Nyack, NY

Denver, CO

Bethesda, MD

Bellevue, WA
The Wall, for the uninitiated, is a high-stakes game show that's as fun as it is unpredictable. Read an official description, below: 
"The Wall will offer a pair of teammates life-altering cash prizes. The rules are simple: get a question correct and a green ball will fall down the Wall and add the value of the slot to the players' winning total. Miss a question and an ominous red ball will fall and deduct the value from the teams' total. Teammates have to work together to build a huge cash prize.
However, the towering wall is not easily conquered. Wildly unpredictable, the Wall is capable of millions of different outcomes. As the game progresses, the stakes get even higher when one player is sent into an isolation room behind the Wall. It is here where the pairs' faith in each other will be tested as they play the remainder of the game without any communication."