NBC Insider Exclusive
Create a free profile to get unlimited access to exclusive show news, updates, and more!
Sign Up For Free to View
Mrs. Davis Star Was Hesitant At First, But Promises the Peacock Series Is An 'Insane Adventure'
Chris Diamantopoulos admits that he had his doubts that the Damon Lindelof series would make sense in the end, but he says it's "genius."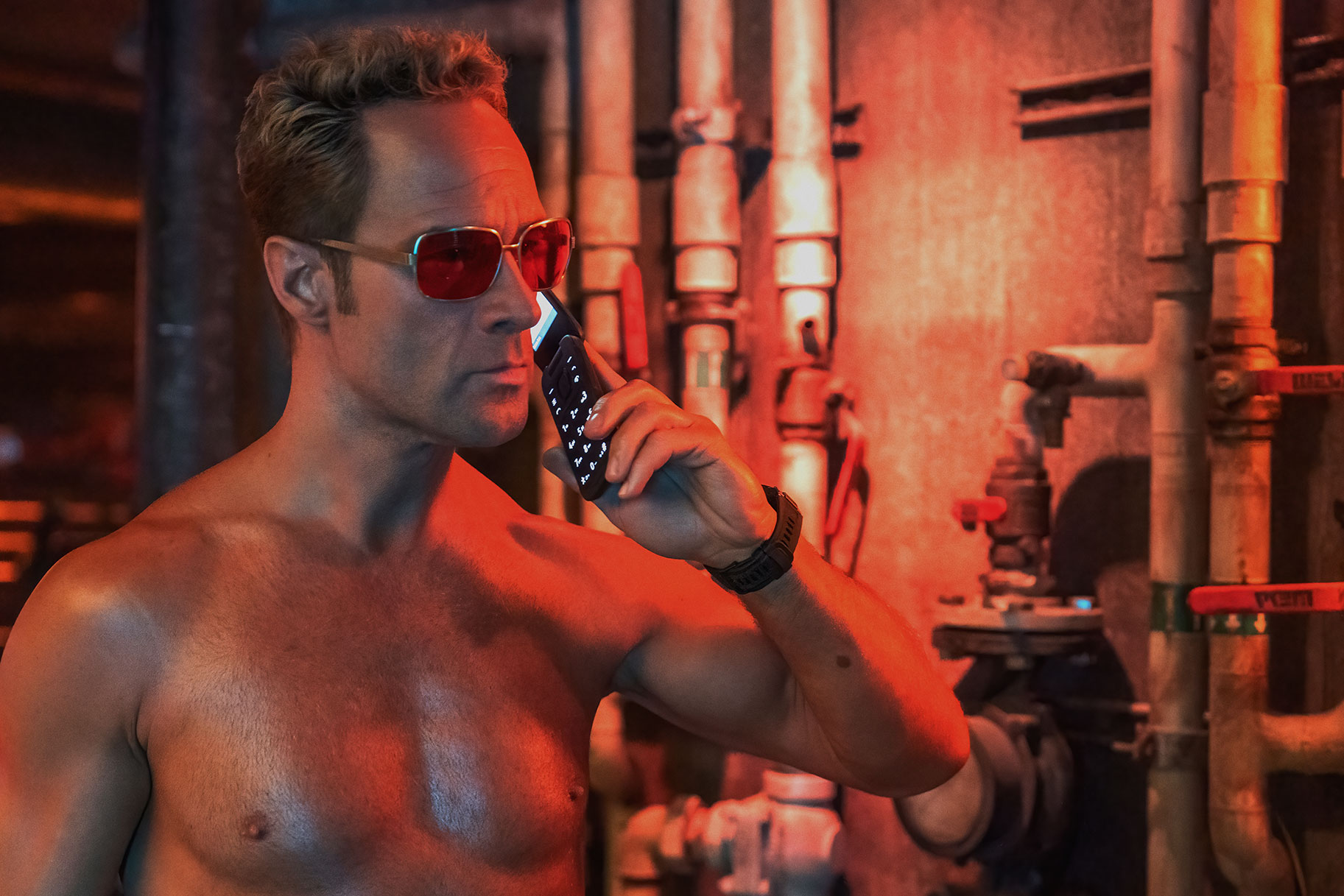 Anybody who watched Lost, The Leftovers, or HBO's Watchmen knows that, when it comes to a TV show created by Damon Lindelof, you're not going to totally know what's going on until the last episode — and even then, you might still have some questions. But, man, what a journey the whole series is regardless. Mrs. Davis, Lindelof's new show that he co-created with Tara Hernandez, is no exception. 
The series, which premieres the first four of its eight episodes on April 20 exclusively on Peacock, is full of twists, turns, heady concepts, and plenty of bizarre humor. Chances are you'll need to wait until the end to fully understand what's actually happening in the plot, which is described as one nun's mission to take down a seemingly benevolent A.I. named Mrs. Davis that basically controls the world. Chris Diamantopoulos, the actor who plays JQ, a leader of an underground resistance dedicated to taking the algorithm down, admits to NBC Insider that he had his doubts about how it would all come together.
"It's funny, I oscillated, as we were shooting, between having full faith in Tara and Damon and then thinking, 'Oh my God, what is happening? Does anyone know what's happening?' And then I went back to, 'Oh my God, that's genius,'" Diamantopoulos said.
"We just sort of have to remember that Damon Lindelof did The Leftovers, did Watchmen, and did Lost," he continued. "He knows how to fragment something and make it a puzzle that only he can put back together again and make it make sense for us."
However, Diamantopoulos says that despite having the same sense of bewildering (if ultimately satisfying) mystery as Lindelof's previous shows, Mrs. Davis sets itself apart from the series that came before. 
"I think the thing that this series has done well and differently than many of Lindelof's former series is that there's a level of humor and levity that's quite brilliantly juxtaposed to these high stakes — epic stakes if you will," he said. "There's a tongue-in-cheek and wry nature to the way that [Lindelof and Hernadez] have exposed these cinematic and mythological tropes that I find so refreshing. They're saying, 'Take a look. There's a man behind the curtain.' They're not saying 'Pay no attention to the man behind the curtain.'
"So, I think what viewers can expect is to put their expectations aside and, for the first time in a long while, be taken on a ride," he continued. "Go on this insane adventure and it'll be worth it."
The first four episodes of Mrs. Davis hit Peacock on April 20, with subsequent episodes coming out weekly on Thursdays.