NBC Insider Exclusive
Create a free profile to get unlimited access to exclusive show news, updates, and more!
Sign Up For Free to View
Maren Morris Shares the Sweet Eras Tour Detail That Shows How "Generous" Taylor Swift Is with Her Fans
Morris, who assured Jimmy Fallon she is NOT leaving country music, also performed "The Tree" with country singers Mickey Guyton and Brittney Spencer. 
Singer-songwriter Maren Morris visited the The Tonight Show Starring Jimmy Fallon on November 7, performing her song "The Tree" with country singers Mickey Guyton and Brittany Spencer assisting on vocals. Morris also sat down with Jimmy Fallon to talk about her latest EP, "The Bridge" and her children's book, Addie Ant Goes on an Adventure. 
The musician also shared a little about her friendship with Taylor Swift, and cleared the air about a certain rumor: Maren Morris is not leaving country music. 
"I don't think it's something you can really 'leave,' because it's a music that's in me," Morris told Fallon when the Host asked about headlines he's seen (and didn't quite believe). "That's what I grew up doing, it's the music I write. Even if I've been sort of genre-fluid my whole career, you can't, like, scrub the country music out." 
"It was very hyperbolic," Morris said of the reaction to her move to Columbia Records from the label's Nashville division, and her public criticisms of country music's historically homogenous culture. As Morris put it to Fallon, "There were some facets of it that don't really jibe with me anymore."
RELATED: BTS's Jung Kook Debuts the Ultra-Smooth "Standing Next to You" on The Tonight Show
"So you're not leaving country music?" Fallon confirmed. 
"No, I'm taking the good parts with me," Morris said. "All are welcome!"
Maren Morris recounts performing with Taylor Swift on the Eras Tour
Fallon also asked Morris about her performance with fellow "genre-fluid" musician Taylor Swift, who also launched her career in country music. Morris joined Swift onstage on a June 3 Chicago Eras Tour stop to play "You All Over Me" from Swift's re-recorded Fearless album.
"We met—I think it was on her Reputation tour," Morris said. "She was kind enough to ask me to come out and sing my song 'The Middle' with her." They performed at the AT&T Stadium in Morris's hometown of Arlington, Texas.
RELATED: Hayley Williams Tells Jimmy Fallon How Taylor Swift's Mom Made Them Be Friends
"She's just been so supportive of me and my career over the years," Morris said of Swift, adding that even though they're the same age, Morris has "looked up to her since I was a teenager" in certain ways. 
"Watching her navigate her country music to pop career so gracefully," Morris continued. "And just the way she treats her fans is so kind and generous. She's setting a high bar."
Morris shared a small detail from Swift's tour that she felt spoke to the singer's care with her audience. "There were actually these signs on the inside of the barricades of her stadium show," she recounted. "Basically, it says to local security, 'fan-friendly show. Be kind.'" 
As Morris sees it, that's their way of saying, 'Don't mess with the fans—they're here to have fun, and they're really respectful. I love that.'"
Maren Morris performs "The Tree" on The Tonight Show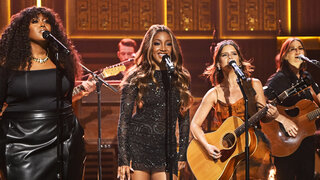 Watch Morris perform "The Tree" with country singers Mickey Guyton and Brittney Spencer above.