NBC Insider Exclusive
Create a free profile to get unlimited access to exclusive show news, updates, and more!
Sign Up For Free to View
Jung Kook Debuts the Ultra-Smooth "Standing Next to You" on The Tonight Show: Watch
Jung Kook's Golden performance on The Tonight Show featured an incredible dance break showcasing Michael Jackson-esque moves. 
BTS member Jung Kook's year keeps on getting more exciting: After setting streaming records with the release of his first solo single, "Seven" featuring rapper Latto, the South Korean megastar released his first solo album, Golden, on November 3.
And on November 6, Jung Kook returned to The Tonight Show to catch up with Jimmy Fallon and perform his latest single, "Standing Next to You," in the song's TV debut. 
The performance brought all the bombast that the disco-tinged "Standing Next to You" deserves, with a neon set that emitted Golden light. A sequin-suited Jung Kook and his backup dancers flaunted their moves between verses, as the singer never missed a note or step—and wait for that Michael Jackson-esque dance break at the 3:15 mark. 
RELATED: Jung Kook Teaches Jimmy Fallon Some Choreo on The Tonight Show
Jung Kook explains the meaning of Golden's title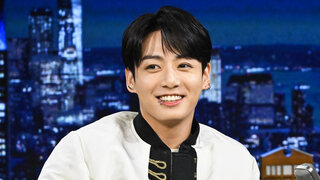 When Junk Kook sat down to chat with Fallon, he explained that Golden Maknae "means the youngest of the group in Korean," and added that fellow BTS member RM "coined that nickname."
But the Golden title also has a beautiful connection to Jung Kook's mother, and the life he's had in his 26 years. "I have a lot of association to this term 'golden,' and when my mom was pregnant, she had a golden dream," he shared. "If I look back on my journey, it's very much a golden moment. So when I thought about the title of the album, Golden was the only thing that came up in my mind."
RELATED: Hear Teen Kaylee Shimizu's "Insane," "Supernatural" High Notes That Won Her Voice Knockout
"Standing Next to You" lyrics
Standing next to you

Play me slow
Push up on this funk and give me miracles
Let ya body know
Make it known
How we left and right is something we control
You already know

You know that all night long, we rock to this
Screaming, I testify this lovin'
All night long, we flock to this
Screaming, I testify that
We'll survive the test of time
They can't deny our love
They can't divide us, we'll survive the test of time
I promise I'll be right here

Standing next to you
Standing in the fire next to you, oh
You know it's deeper than the rain
It's deeper than the pain
When it's deep like DNA
Something they can't take away, aye
Take-take-take-take-take off, take off

Standing next to you
Standing next to you
Standing next to you

Afterglow
Leave ya body golden like the sun and the moon
You already know

You know that all night long, we rock to this
Screaming, I testify this lovin'
All night long, we flock to this
Screaming, I testify that
We'll survive the test of time
They can't deny our love
They can't divide us we'll survive the test of time
I swear that I'll be right here

Standing next to you
Standing in the fire next to you, oh
You know it's deeper than the rain
It's deeper than the pain
When it's deep like DNA
Something they can't take away, aye
Take-take-take-take-take off, take off

Standing next to you
Standing next to you
Standing next to you
Standing next to you
Standing next to you
Standing next to you
Standing next to you

Standing next to you
Standing next to you
Standing next to you
Standing next to you

Bass and Drums
Standing next to you