NBC Insider Exclusive
Create a free profile to get unlimited access to exclusive show news, updates, and more!
Sign Up For Free to View
Paco Lomeli Highlighted a Harsh Reality About Medical Care on LA Fire & Rescue
The Station 16 firefighter/medic just delivered a masterclass in empathy.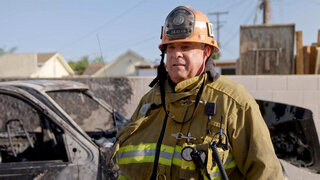 Whether it's through treating patients or helping one of their own, the firefighters and medics featured on LA Fire & Rescue are some of the most caring, empathetic humans on this planet. And in Season 1, Episode 3 of the series, Station 16's Paco Lomeli delivered a masterclass in openheartedness that shed light on a harsh reality of the medical care system. Read on for details. 
Paco Lomeli's big heart takes center stage on LA Fire & Rescue Season 1, Episode 3
This episode of LA Fire & Rescue opens with Station 16 (Watts)'s Lomeli and Romeo Robles answering an assault call that seems pretty intense. 
"Assaults are very common in our area," Lomeli says. "Stabbings, shootings, lots of gang violence. It's not just something that happens at night or in the alleys. It happens in broad daylight in the middle of the streets." (Around 35,000 aggravated assault cases happened in L.A. County in 2021, according to the show.) 
Such is the case with this latest victim, who says he was walking home when a man asked him for money before starting to hit him. Once the victim fought back, more men jumped in and starting assaulting him. The assailants fled, leaving our victim bloodied, bruised, and in dire need of medical attention. 
RELATED: Meet the Real-Life Heroes from NBC's LA Fire & Rescue
Lomeli notices the victim has a large hematoma on his head and that one of his fingers isn't curling properly when asked to make a fist. He recommends the victim go to the hospital to receive more attention, but this, sadly, highlighted a frustrating truth about medical care: It's expensive. 
The victim insists on not going to the hospital for this reason. "That's gonna cost me money, though," he says. 
Lomeli attempts to reason with the victim, but he doesn't budge — and in an interview after the encounter, Lomeli gets emotional about what happened. "I understand the struggle of barely having enough to get by, having someone try to take that from you, and then now you're 'gonna get hit with this crazy medical cost," he says. "I'd say most of the calls we go on, the right thing to do is grab them and send everyone to the hospital. But that's not really taking care of the people we serve. That's not taking care of our citizens. The right thing to do is provide the aid and provide the guidance." 
Which is exactly what Lomeli does. He meets the victim where he's at, using the resources he has in the moment to treat the victim as best as he can — for free. Sometimes, that's all you can do, especially with hospital bills so high. 
RELATED: Where Are the Firehouses on LA Fire & Rescue?
"Because I grew up in South L.A., I've been in their shoes," Lomeli says. "So it makes it easier for me to not just treat but to help [patients]. Not just as a firefighter but as a person." With people like Lomeli on the force, it's comforting to know everyone has access to some kind of emergency care when they need it most.