NBC Insider Exclusive
Create a free profile to get unlimited access to exclusive show news, updates, and more!
Sign Up For Free to View
Everything Kamala Harris Discussed on Her Late-Night Talk Show Debut
She appeared on the October 10th episode of Late Night With Seth Meyers.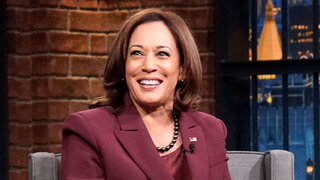 Vice President Kamala Harris appeared on Late Night With Seth Meyers on Monday, October 10 to discuss some pressing subjects that America is facing today. Here 's everything she talked about during her compelling interview:
Marijuana pardons
"I strongly believe–and the majority of Americans agree–nobody should have to go to jail for smoking weed, right?"
"...We're urging governors and states to take our lead and pardon people who have been criminalized for possession of marijuana."
"...If Congress acts, then there is a uniform approach to this and so many other issues. But Congress needs to act. We're 29 days away from the Midterms. Ask who you're voting for, where they stand on this, and I encourage you to vote accordingly."  
2022 Midterm elections
"If we keep our numbers in the Senate and elect two more United States Senators, then the president can sign into law the Women's Health Protection Act, which would put into law the protections of Roe. V Wade. So, critically important. Twenty-nine days to go. And the reality of it is, 29 days, everyone has a lot going on, very busy, and it's gonna take an effort to make sure that you vote. On the other hand, these House seats, they're two-year terms. These Senate seats, six-year terms. So think about it. Whether we let it go with status quo the way it is now for the next two years or six years, or in the next 29 days, make a plan to vote and actually vote on this issue."
Reproductive health
"In our country today, women are still dying in connection with childbirth. And when you look at the racial disparities, Black women are three times more likely to die, Native American women twice as likely to die, women in rural America, 1.5 times more likely to die. And a lot of it has to do, again, with the disparities in the healthcare system and that we are not putting enough attention and resources and priority into women's needs, especially as it relates to their reproductive health."
"...This is an issue that affects all genders. If you have a partner, if you have a sister, if you have an aunt, a mother, this affects you. Not to mention on the Dobbs decision, when Justice Clarence Thomas said the quiet part out loud, when they took the constitutional right from women on reproductive choice. He said that in-line, in terms of what might come next, is your right to contraception. That will affect all genders. Your right to marry the person you love, same point."
"...There is so much on the line with these issues that affects everyone and the people you love. And for that reason, let's take it seriously and let's, you know, speak with our vote and undo what I think is a great travesty of justice."
Immigration 
"...We're talking about people who have fled great harm. And they are coming here seeking refuge. And talk about political theater, I mean, playing games with people's lives. You know, there were mothers with sleeping babies getting off those buses.
 "...I just think it's an absolute dereliction of duty. If you see a problem, and if we agree that we need to address it, then if you're a leader, participate in a solution, right? When we first came in office, the first bill that we proposed was for a pathway for citizenship, was to fix a broken immigration system, which was broken under the previous administration. Participate in the solution, because we are offering solutions. But instead, this gamesmanship with real human beings who trust us."
Joe Biden
"He is very thoughtful, and he is very kind. He is thoughtful about the American people in terms of the work we've done, and it's been historic work, how we've lifted up working families, how we've invested in infrastructure, the biggest investment in the climate crisis, historic $370 billion. But what I will say, in terms of the interpersonal relationship, is he knows the job, and he cares about the partnership. And in that way, it makes it a real joy given all that we actually need to address in terms of the challenges our country faces. But he really is quite wonderful."  
Watch Late Night with Seth Meyers on NBC weeknights at 12:35/11:35c and next day on Peacock.